H&H Classic Parts -
Radiator Parts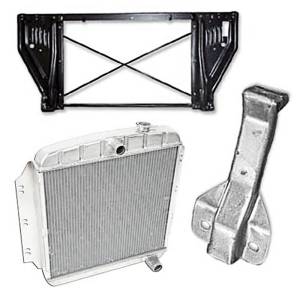 The classic Chevy and GMC trucks are large bodied trucks that were popular for both business use and personal use. They are also extremely popular with custom truck builders and hot rodders, and if you have one of these sturdy trucks, you know that you have to keep it running cool. You will find all the parts you need that will fit the cooling system in these trucks.
Select a Sub-Category
Radiator Parts
Featured Products
---
---
More About
Radiator Parts
The radiator works to keep the engine cool when the truck is driven. Since there are so many engine choices owners of these trucks can make, they need to decide how they are going to keep the engine running cool and smooth. Whether you are looking for a fan shroud or the entire electric fan kit, you want parts that fit exactly as they should. You will find the right reproduction parts that are designed to fit your classic Chevy or GMC truck here. H&H Classic is a leader in reproduction parts that are the right fit. If you do not update or resize your radiator and cooling parts to fit your engine, you run the risk of overheating the engine because not enough water will be going through the block. This can cause severe damage to the engine, including seizure due to pistons breaking from undue friction, which renders the engine useless. Whether you need to replace a radiator, or you are doing some updating and repair work on your truck, you will find everything you need to keep your engine running cool here.