H&H Classic Parts -
Sheet Metal Body Panels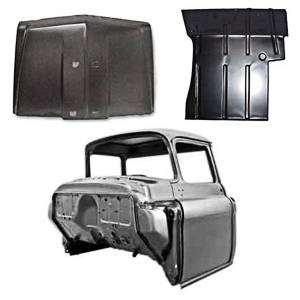 A great thing about classic trucks is they're made from real metal, unlike many of the vehicles on the road today. However, this is always a bit of a downfall as metal can more easily rust, and when it's damaged, it's hard to repair. If your truck has an extreme amount of rust or denting on the body panels, it's time to restore the body to regain the awesome classic Chevy truck look. Classic truck parts like body panels aren't always easy to find, so many people put their projects on hold — that doesn't have to be the case when you shop with H&H Classic Parts!
In our easy to use online catalog of body panels, you'll find: bed sides, bed patch panels, entire cab assemblies, door skins, fenders, hoods, rocker panels, tailgates, small parts like headlight caps and cab corners, and more.
All of the sheet metal parts in our truck catalog are high quality replacements, made as model and year specific parts. Don't let your restoration project come to a halt because you found rust or damage. Replace the part to restore the original look of your truck. Get your sheet metal body panels from H&H Classic Parts now.
Select a Sub-Category
Sheet Metal Body Panels
Featured Products
---
---
More About
Sheet Metal Body Panels
Age is not kind to metal, and many of the classic cars and trucks have been stuck in time without any protection. Leaky barns and garages allow the vehicles to deteriorate beyond repair, so you want to start putting new pieces of sheet metal on it when you begin your restoration. No matter whether you need the entire body because nothing is salvageable, or you only need dash repair panels, you will find all the sheet metal parts that you need to restore the body of your classic Chevy or GMC truck. H&H Classic is a leader in quality reproduction parts for classic vehicles. You want to use parts that fit your make and model, or you will run into trouble putting the rest of the vehicle together due to incorrect sizing. You can replace the door skins, bed sides, bed patch panels or the cab assembly. Since you cannot use a part that has holes in it or has rusted, you will need one of the sheet metal pieces from H&H Classic.