H&H Classic Parts -
Chrome Bumpers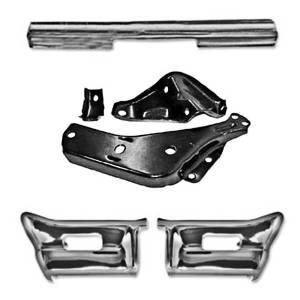 The Chevrolet Impala is a long-standing Chevy that debuted in 1958 and has been on the market ever since. The Impala has been Chevrolet's most popular full-sized passenger car and holds the record for the most automobiles sold in the United States. This popular vehicle has gone through a number of iterations, but Chevy enthusiasts will always have their favorites. As you restore your Impala, be sure to replace old or pitted chrome pieces like those on the bumper. H&H Classic carries restoration parts for your classic.
The bumpers help make the car, and they're built to withstand impact during a collision. When you get your Impala ready for the show or parade, you want to replace the bumpers, brackets or filler panels. We carry bolts and the body seals, too.
When you buy your reproduction parts from H&H Classic, you get our years of experience and our helpful, professional staff ready to assist you. We have been in business since the 1980s and have a long history of parts experience that goes back to the 1970s. We offer a large selection and low prices, as well as fast shipping and easy returns.
Select a Sub-Category
---