H&H Classic Parts -
Dash Parts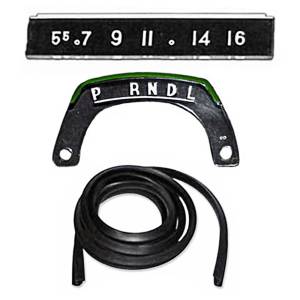 Chevrolet's Impala is a classic car that's been on the market for years. The first modelrolled out in 1958, and it's still manufactured today. The dash on your vintage Impala offers you immediate information regarding the state of your motor and fluids, along with other pertinent information like speed and RPMs. It can be dressed up to make your classic Chevy a showstopper.
Dash parts can age over time, fade from the sun and become cracked or damaged. If you're planning to show your classic Impala or just want to show it off to a few friends, you'll want to add classic Impala parts like bezels and trim pieces, gauges and reproduction accessories like tissue dispensers.
H&H Classic carries all the restoration Impala parts you need to get your car in showroom condition. H&H Classic has been manufacturing and selling vintage Impala parts since the 1980s. They have a large selection and low prices, and they offer fast shipping and easy returns.
Select a Sub-Category
Dash Parts
Featured Products
Sold as Each
Description:
1961-1962 Impala or Bel-Air or Biscayne
This is a special order item and is drop shipped direct from the manufacturer to you!!
Sold as Each
Description:
Any Vehicle with Bench Seat
Limited Supply:
Only 1 Left!
Sold as Each
Description:
1955-1957 Bel-Air or 210 or 150 All with CI Gauges
1955-1959 or 1967-1972 Chevy or GMC All with CI Gauges
1959-1960 Impala or BelAir or Biscayne:All with CI Gauges
1964-1965 or 1970-1972 Chevelle or Malibu or El Camino All with CI Gauges
1963-1965 Nova or Chevy II All with CI Gauges
1967-1981 Camaro All with CI Gauges
Limited Supply:
Only 0 Left!
---