H&H Classic Parts -
Suspension Parts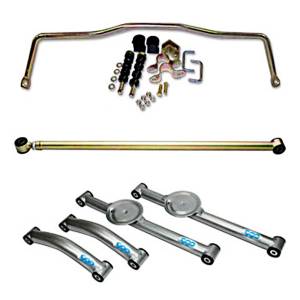 Between the stylish lines and the powerful engines, the Chevrolet Impala has become a sought out car for those who customize or restore vehicles. If you are in the process of completing one of these cars, you will want to update the suspension with new parts, especially if you have added more weight to the car. You will find all the parts you need for your suspension below.
Select a Sub-Category
Suspension Parts
Featured Products
---
---
More About
Suspension Parts
The suspension keeps your car riding smoothly, and when you make any changes to the power or transmission in the vehicle, you will want to update your suspension to ensure that it handles any extras that you have added. Today's suspension kits and parts make for a much smoother ride than the original factory installed kits. You want to make sure that the suspension parts you add are made specifically to fit your Impala, or they will not function as they were intended. H&H Classic carries parts that are designed for the older classic Chevys, so you know that the suspension parts you get will be the right fit for the car. All of the springs, shock absorbers and links must fit correctly in order for them to work together to smooth out the ride. You may only need a few pieces, like idler arms, control arm shafts, ball joints or springs, or you may want to do a complete conversion from your old suspension. You will find all the parts you need to update the parts in the suspension of your classic Impala here.