H&H Classic Parts -
Chrome Window Frames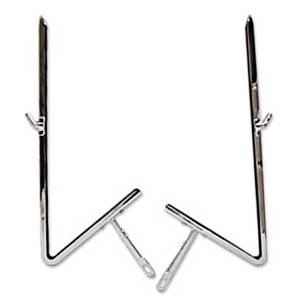 One of the most attractive parts of the classic Chevy Impala is the addition of trim that makes it shine, and the chrome moldings and trim is what helped to make this classic Chevy a favorite among car enthusiasts. If you are restoring or customizing one of these cars, you know how important it is to get every piece of trim and window chrome just right in order to make this car look good. You will find all the window chrome pieces you need here.
Browse Chrome Window Frames
Products
---
---
More About
Chrome Window Frames
The window trim is designed to keep the interior safe from weather as well as reinforce the window seals by protecting all the sides from water leaks. The chrome trim around a window also adds attractive lines to the windows to help accent their appearance. The chrome keeps the unsightly rubber molding from showing. When you are restoring or customizing your classic Impala, you want to update the chrome window trim with parts that are designed to fit the car. The chrome window trim in older cars can become pitted and chipped, and you will want to replace them with fresh trim since it adds value to your car. H&H Classic has chrome trim pieces that are specifically manufactured to fit the windows in your classic Impala. Whether you only need the quarter window vertical molding for the 1966 convertible or hardtop, or you need to replace the vent window frames for the 1963, you will find all the chrome trim parts you need at H&H Classic.