H&H Classic Parts -
Window Felt Kits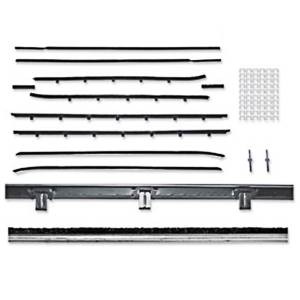 When GM introduced the Chevrolet Impala to the world, they may not have realized how popular their vehicles would become, but it did not take them long to understand that the popularity would last a long time. If you are one of the car enthusiasts who are restoring or customizing one of these classic Chevys, you want to make sure that you replace all the window felt in the windows. You will find all the window felt products you need below.
Browse Window Felt Kits
Products
---
---
More About
Window Felt Kits
The window felt is designed to sit between the window glass and the frame of the door. It protects the glass from scratches and breakage as it goes up and down in the channel. If the window felt is missing or damaged, the window glass is exposed to metal or other parts of the door that can break it. When you replace your window glass or channels, you want to replace the felt as well. You need window felt kits that are specifically made to fit your classic Impala, or they may leave gaps or not fit securely in the door. H&H Classic specializes in reproduction parts that are manufactured to fit these classic Chevys. It does not matter if you are replacing the tailgate window felt kit for the wagons, the quarter window felt in the convertible or the upper window channels on the 2-door sedan, you want parts that are cut to fit. You will find all the window felt kits you need for your classic Impala here.