H&H Classic Parts -
Trunk/Rear Body Panel Emblems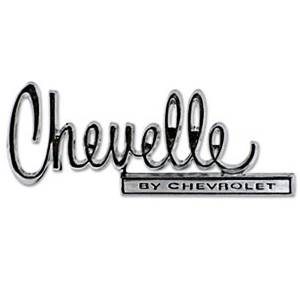 Anyone who enjoys muscle cars knows that the Chevelle gave Chevrolet engineers the opportunity to develop a car with great looks and power. With the range of engine options available, Chevy took to displaying their engine displacement and sport packages on their emblems. You can get the trunk or hood emblem that matches your CID or model's sport package here.
Browse Trunk/Rear Body Panel Emblems
Products
---
---
More About
Trunk/Rear Body Panel Emblems
Power is important in a muscle car. Fans of the classic Chevy Chevelle know that they had a lot of power packages to choose from when buying their cars. Chevrolet understood the need for more performance and decided to display the engine's capabilities by applying a simple emblem to the trunk or hood of the car with the CID or model's package on it. Even with the appropriate emblems on your Chevelle, there are still going to be plenty of opportunities to lift the hood and show off your engine. When you apply a trunk or hood emblem to your Chevelle, you want to use reproduction parts that are designed to the manufacturer's specifications that way there is no modification necessary to the make the emblem fit. It will line up exactly as it was designed. H&H Classic is a leader in supplying properly fitting restoration parts for your Chevelle. Whether you need an SS 427 rear panel emblem, the 1965 SS Malibu trunk emblem or any other Chevelle emblem, you will find all you need to add the finishing touches to your classic car listed here.