H&H Classic Parts -
Window Felt Kits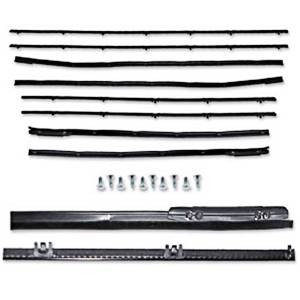 The engineers at GM designed the Chevrolet Nova in order to offer a compact car to those who were looking for a family car that was smaller and more economical. It did not take long for car enthusiasts to discover that the Nova made a great little street rod once they added a different engine for more horsepower. If you are restoring or customizing one of these classic Chevy Novas, you will find all the window felt kits you need below.
Browse Window Felt Kits
Products
---
---
More About
Window Felt Kits
The window felt is designed to go around the windows in order to keep water and dirt out of the interior of the car. The felt kits sit along the edges of the window and create a barrier from water and noise. There are window felt kits for door windows, vent windows and quarter windows, and they come with all the hardware necessary to update the window felt. Rubber channels with felt liners sit on the edge of the door windows in order to keep air and moisture out. They also help keep the windows in line as they are rolled up and down. When you add the felt to your windows, you want parts that fit, or they will not be effective in protecting the interior of your car. H&H Classic carries reproduction parts that are made to fit your Nova. When you are ready to replace the worn or damaged felt in your Nova's windows, you will find everything you need to complete the job in this section.