H&H Classic Parts -
EL Camino Bed Sheet Metal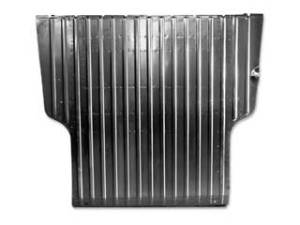 The El Camino, built on the Chevelle platform, gained a devoted fan base quickly and they're still popular today with both restoration enthusiasts and hotrodders. If you've just picked up an El Camino for your next project car, keep an eye out for rust. Sheet metal parts can become damaged or destroyed over time since they don't weather very well. They may have rusted out or been dented due to an accident. The sheet metal must be replaced in order to keep the integrity of the vehicle, so if you need sheet metal body panels or parts for the bed, we can help. The sheet metal body panels help hold the vehicle together by adding strength to the sides. In addition, the sheet metal protects you and your cargo from harm should you be in an accident
When you need sheet metal for your El Camino, H&H Classic carries the best parts at the best prices with the fastest shipping. That has been the motto since the Smith family founded it in the late 1980s. If you need assistance with this or any other El Camino part ask our experienced staff for free technical assistance from our experienced staff. Order your sheet metal body parts today.
Browse EL Camino Bed Sheet Metal
Products
---
---
More About
EL Camino Bed Sheet Metal
If the bed of the El Camino was left out in the elements, then it may need to have the sheet metal replaced. The bed is for hauling, and it has several parts to it. You may not need the full bed floor and rear roll pan in order to restore your El Camino. You may only need to replace the rear window shelf panel or the spare tire panel in order to finish off the bed of your truck. Regardless of the part that your El Camino bed needs, you want to make sure that you add reproduction sheet metal bed parts that are designed to fit your El Camino, or they will not join properly. H&H Classic carries classic Chevy reproduction parts that are designed specifically to fit your El Camino. Whether you are adding the front lift panel for your 1968, or you need the bed lift support for your 1964, you will find all the El Camino bed sheet metal parts now.