H&H Classic Parts -
Vehicle Specific Products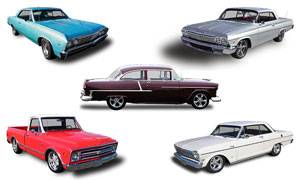 The classic Chevy is an American institution that has worldwide appeal. From the Tri-Fives of the 1950s to the muscle cars of the 60s and 70s, these cars and trucks are found in a variety of places. Museums are made to house them, they're found at car shows and swap meets, and often seen in parades or at fairs.
Anywhere that car enthusiasts gather, you're likely to find a classic Chevy or two. Each of these cars has specific parts that make them unique, so when you want to restore your classic, you choose H&H Classic for your restoration parts.
H&H Classic carries a large selection of reproduction and restoration parts that are made for your Chevy car or GMC truck. Whether you need a sway bar for your half-ton truck or a front bumper for your 1962 Biscayne, we can help. We have been in business since the 1980s, when the Smith family opened our doors. We specialize in classic Chevy parts and accessories and our experienced staff offers free technical assistance in order to help answer your questions. We have fast shipping and easy returns, too.
---