Home
-
Classic Chevelle, Malibu, & El Camino Parts
-
Interior Parts & Trim
-
Brake Pedal Parts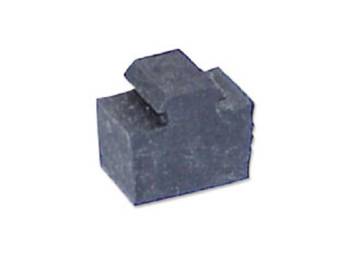 Click on image to zoom
Brake/Clutch Pedal Bumper
Sold as Each
1964-1969 Chevelle or Malibu
Limited Supply: only 5 remaining
Description

Rubber bumper between the brake pedal assembly and the pedal swing arm.

When the engineers at GM introduced the Chevrolet Chevelle in 1964, they may not have realized how popular these cars would become with both the public and car enthusiasts who wanted to modify and customize them. If you are restoring your Chevelle, you may need to replace worn or deteriorated rubber pieces like the brake/clutch pedal bumper. H&H Classic carries these brake/clutch pedal bumpers for all models of the 1964 through 1969 Chevelle.

The brake/clutch pedal bumper is a hard piece of rubber that provides a buffer for the metal to keep it from wearing out by metal on metal contact. The rubber piece can wear out in time as well as deteriorate with age, so when you replace your brake assembly, you want to replace the bumper as well. The bumper must fit your car, so it is important to get only reproduction parts that fit. This bumper needs to be a good fit, or it will not properly protect the metal parts from wear and tear. This brake/clutch pedal bumper is manufactured by T & N, and they are a respected manufacturer of replacement rubber, seals, molding, gaskets, weatherstripping and other rubber parts for classic Chevys. It is designed to fit all models of the Chevelle from 1964 through 1969. If you have any questions about this or any other part, H&H Classic offers free technical assistance from our experienced staff. We offer a large selection and low prices on all of our reproduction parts.

Shipping Information
Item Requires Shipping
0.1 lbs.
Customer Reviews
Total Reviews (0)
You must login to post a review.
---
The Company

Difference

We're the Experts

Ask us anything. We are the professionals!

Largest Selection

If you don't find the part, we'll get it for you!
Easy Returns Call in for returns per the return policy