Home
-
Classic Chevelle, Malibu, & El Camino Parts
-
Exterior Parts & Trim
-
Hood Parts
-
Hood Cowl Induction Parts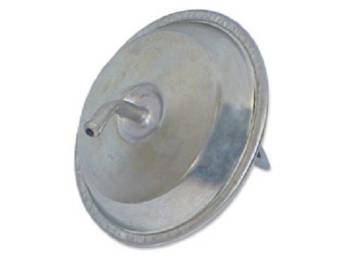 Click on image to zoom
Cowl Induction Vacuum Actuator
Sold as Each
1970-1972 Chevelle or Malibu or El Camino All with Cowl Hood
Description

Excellent reproduction part for the factory cowl induction system.

The 1970 through 1972 Chevrolet Chevelle was an extremely popular car for car enthusiasts who wanted a muscle car with performance. The introduction of the cowl induction hood made these cars even slicker, and if you are restoring your Chevelle, you will want to replace the cowl induction vacuum actuator. H&H Classic has the right part for your Chevelle.

The cowl induction hood provides forced cool air from the high-pressure area at the base of the windshield through the use of a vacuum actuator that opens and closes the cowl hood door. The vacuum is used to pull the actuator rod in order to open the door. The use of positive air being forced into the carburetor gives the engine better performance. When you replace the cowl induction vacuum actuator on your Chevelle, you want a reproduction part that fits, or you will not get the benefit that the cowl induction was designed to provide to your engine. This cowl induction vacuum actuator was developed by TWE and has been designed to fit all models of the 1970 through 1972 Chevelle that have cowl induction hoods. TWE manufactures internal combustion engine parts. If you are not sure which part you need, H&H Classic offers free technical assistance from our experienced staff, and they will be able to answer all your questions about your cowl induction. We also offer fast shipping and easy returns on all our parts.

Shipping Information
Item Requires Shipping
0.4 lbs.
Customer Reviews
Total Reviews (0)
You must login to post a review.
---
The Company

Difference

We're the Experts

Ask us anything. We are the professionals!

Largest Selection

If you don't find the part, we'll get it for you!
Easy Returns Call in for returns per the return policy