Home
-
Return to Previous Page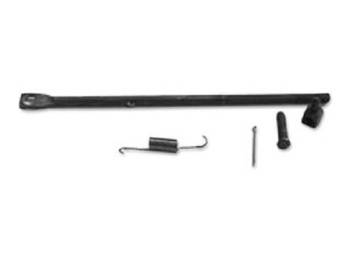 Click on image to zoom
Clutch Push Rod at Bell Housing
Sold as Kit
1955-1957 Bel-Air or 210 or 150 All with Standard Transmission
Limited Supply: only 5 remaining
Description

Reproduction of the rod from the z-bar to the clutch fork. Comes with rod, keeper, and return spring.

The popularity of the Chevrolet Tri-Five has united car enthusiasts from around the world. They have created car clubs, shows, websites and online groups that discuss different ways to restore or modify these classic cars. If you have one of these in your garage, you want to replace any parts that are worn like the clutch push rod. H&H Classic carries the clutch push rod at bell housing that will fit all models of the Tri-Five.

This clutch push rod at bell housing is a reproduction of the rod that goes from the clutch fork to the z-bar. This kit comes with the rod, the keeper and the return spring. The clutch push rod determines how far off the floor the clutch is before it engages or disengages when pressed. By making adjustments to this bar, you can find the right distance that best fits the clutch you have in your car. The use of a reproduction part that is designed to fit the Tri-Five will give you the right length. When the part does not fit, it can cause stress to the clutch by pushing the throw out bearing in too far. This clutch push rod is designed by East Coast and will fit any model Tri-Five. If you have any questions, we at H&H Classic offer you free technical assistance from our experienced staff on any of your parts questions. We make it easy to shop by offering fast shipping and easy returns.

Shipping Information
Item Requires Shipping
0.4 lbs.
Customer Reviews
Total Reviews (0)
You must login to post a review.
---
The Company

Difference

We're the Experts

Ask us anything. We are the professionals!

Largest Selection

If you don't find the part, we'll get it for you!
Easy Returns Call in for returns per the return policy