Home
-
Classic Tri-Five Restoration Parts
-
Exterior Restoration Parts & Trim
-
License Plates & Light Parts
-
License Plate Frames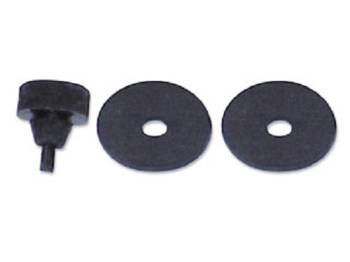 Click on image to zoom
License Plate Cushion Seals
Sold as Set
New
1955-1957 Bel-Air or 210 or 150
Limited Supply: only 3 remaining
Description

Rubber seals and bumper that goes between the rear license plate bracket or license plate.

The Chevrolets that rolled out of the factory between 1955 and 1957 are commonly known to car enthusiasts as the Tri-Five models. These cars are extremely popular with those who enjoy customizing or restoring these classic Chevys. When you are restoring or customizing, you should pay close attention to every part of the car, including the license plate holder and hardware. H&H Classic has license plate cushion seals that fit all models of the Tri-Five.

The cushion seals for the license plate are designed to provide protection to the bumper. License plate frames are generally metal, and by adding seals, you protect the metal from getting scratched or dented. Metal that has been scratched or dented can quickly become rusted, especially in places that are out of sight where water will not be noticed. This set of rubber seals and bumper goes on the rear bumper and fits between the frame or license plate and the bumper to protect it from damage. The use of reproduction parts that are made to fit your Tri-Five means that you will get a part that will fully protect the large bumper on your car. This set of seals is manufactured by T&N. T&N specializes in reproduction rubber parts for classic cars. H&H Classic offers you free technical assistance from experienced staff if you have any questions about these cushion seals for the rear license plate on any model Tri-Five. It is easy to order parts from us. We offer fast shipping and easy returns.

Details
Categories
License Plate Frames|Vehicle Specific Products
Shipping Information
Item Requires Shipping
0.1 lbs.
Customer Reviews
Total Reviews (0)
You must login to post a review.
---
The Company

Difference

We're the Experts

Ask us anything. We are the professionals!

Largest Selection

If you don't find the part, we'll get it for you!
Easy Returns Call in for returns per the return policy