H&H Classic Parts
»
East Coast Reproductions
East Coast Reproductions manufacture and supply H&H Classic Parts with a whole host of classic car and truck restoration products. These high quality parts are just what you need for your restomod or complete restoration project. From a-arm bushings and shafts to bumper brackets and from carburetor linkage rods to heater box hardware you'll be hard pressed not to find what you are looking for. We are a proud distributor of East Coast Reproductions parts because not only the variety of parts that they offer but because of the quality of the parts that they provide. Call H&H today at (479) 787-5575 to order your East Coast Reproduction parts today!
---
Browse Weatherstripping & Rubber Parts
Products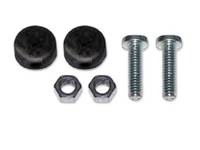 Sold as Kit
Description:
1957 Bel-Air or 210 or 150 1958-1962 Impala or Bel-Air or Del-Ray or Biscayne
Limited Supply:
Only 7 Left!