H&H Classic Parts
»
Klassic Keyless

Klassic Keyless builds complete do-it-yourself keyless entry kits designed to fit your specific vehicle. It is a comprehensive system that is engineered with the "shade tree mechanic" in mind. These kits come with everything that you need to install power door locks and remote activated keyless entry into your car or truck including a full color step by step instruction manual and all of the necessary hardware. This is all able to be installed using common hand tools that most automotive enthusiasts already have on hand. And remember! Don't hesitate to call us at 479-787-5575 or submit an inquiry with any question that you might have, technical or otherwise. We're not only here to take your order, we're here to help. After all, we're classic car and truck enthusiasts too!
---
Browse Classic Tri-Five Parts
Products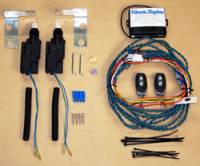 Sold as Kit
Description:
1955-1957 Bel-Air or 210 or 150 2-Door
Limited Supply:
Only 0 Left!