H&H Classic Parts
»
American Cushion Industries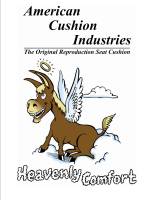 Originally founded in 1983 by Patrick & Arlene Burke as Aero Interior Corporation, our original endeavor was custom aircraft interior restorations. Very soon into the startup, Aero Interior was selected by Alaska Airlines of Seattle to do seat cover replacement and seat overhauls for their then 55 passenger aircraft fleet. It was during this successful 8 year relationship that research and development in the manufacture of molded seat cushions was accomplished, achieving the quality, performance and certification requirements needed for airline use.
In 1987 a decision was made to diversify to the seat foam replacement market for collectable American built cars of the muscle car era 1960's-70's. Now as American Cushion we became the pioneers in this field and today are the leader in consistent quality and service.
Our cushions are reinforced with tough polypropylene mesh backing material for stability and long life. All of our products, including highback cushions are molded with our exclusive cold cure process. Also included are our same as original wire contour mat reinforcements molded internally. Our wire assemblies are made from the very last GM production machine left in existence, which is now owned by American Cushion.
Made in the U.S.A.
---
Browse Classic Camaro Parts
Products