H&H Classic Parts -
Sheet Metal Body Panels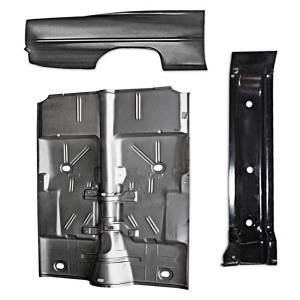 Restoring your Nova means that, in addition to updating or upgrading any interior parts and accessories, you may need to replace body panels or sheet metal body parts. Since many older cars have been sitting for a long time where they have been subjected to the outside elements, it is entirely possible that your Nova needs some sheet metal replacement parts. If something has been dented while in storage, those dents can break the paint and allow water to seep onto the bare metal. This is a good place for rust to start. H&H Classic Parts carries all types of sheet metal body parts for your Nova.
We have everything from back glass to trunk panels. We carry door skins and doors, and we offer patch panels and rocker panels. We have been supplying car enthusiasts with classic Chevy parts and accessories since the late 1980s, and we are committed to giving you the best parts at the best prices with the fastest shipping. Finish the exterior of your Nova by ordering your sheet metal body parts today.
Select a Sub-Category
Sheet Metal Body Panels
Featured Products
Sold as Each
Description:
1962-1967 Nova or Chevy II
Limited Supply:
Only 3 Left!
---
---
More About
Sheet Metal Body Panels
If you have a car that has been sitting for a long time or has been wrecked, you will want to replace sheet metal body panels with new sheet metal parts. Doors, quarter panels, trunks and lids can all be damaged beyond repair, which means that it is more economical to replace than it is to try to repair these pieces. The sheet metal is not only needed to keep the elements from entering into the car, but as part of the entire stability of the vehicle. When you replace any of the sheet metal body panels, you want to use parts that are designed for the Nova, or they may not properly line up, which causes areas where water can get into the car. H&H Classic carries reproduction sheet metal body panels for your Nova that will fit your car. Whether you need rocker panels, patch panels, roof skins, a trunk floor pan, tail light panels or wheel wells, you will find all the right fitting sheet metal body panels for your Nova in this section.