1955 Chevrolet Bel Air: a Timeless Icon From the Nifty Fifties
Half way through the nifty fifties, the second generation Chevrolet Bel Air, appropriately dubbed the "hot one," appeared with all new "motoramic" styling and an optional, new statement-making V8 power plant. Chevrolet enabled the everyday man the opportunity to own a virtually custom car without reaching too deep into their wallet, and Chevrolet savored the positive response.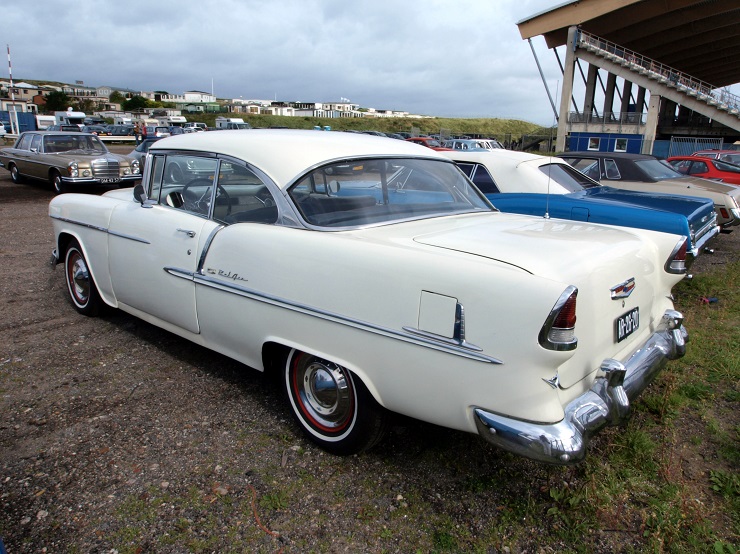 Changing the Game
1955 was landmark year for Chevrolet—they were finally able to provide a bold response to Ford in the performance battle for the first time in 35 years. Chevrolet's 265 cubic inch Turbo-Fire V8 was a model of efficiency and, paired with ambitious styling, the Bel Air helped Chevrolet keep 44% of the low-price market segment locked down.
Simple in construction and economical to build, the 265 cubic inch Turbo-Fire put out 162 horsepower with a two-barrel carb, or 180 horsepower with an optional Plus-Power Package that boasted a four-barrel carb and a dual exhaust. The V8 hosted a new 12-volt electrical system that granted greater generator capacity, more efficient battery charging, and allowed the option for power windows, door locks, and windshield wipers, among other things, that the previous six-volt electrical system couldn't bear.
A Stable Foundation
To enable the Turbo-Fire to deliver its power smoothly, the Bel Air now consisted of an improved "Glide-Ride" system with coil springs, ball-jointed front control arms, wider rear springs, diagonally mounted shocks, tubeless tires, an open drive shaft, a widened frame and lower center of gravity. Customers had an option between the 2-speed automatic Powerglide transmission and a three-speed manual transmission with optional Touch-Down overdrive and Power-Master rear axel. Due to Chevy's optimum power-to-weight ratio the Bel Air was quicker and faster than the competition at about half the price.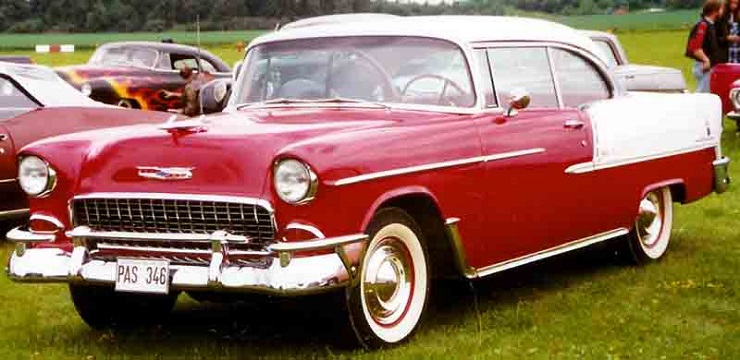 Externally, the newly revamped Bel Air featured a Ferrari-inspired egg crate grille, accentuated headlights, a "Sweep-Sight" windshield, new doors handles, and flush quarter panels. Within the cab laid a color-coordinated interior that Chevrolet flaunted in all its glamour. Drivers were given new swing style pedals, a power seat, a new instrument panel that featured flashing lights as indicators, new all-weather air conditioning by Frigidaire, and new ball bearing infused steering that reduced friction allowing smoother, steadier handling.
Winning the Hearts of the Nation

America fell in love with the Bel Air, and ads were claiming it to be the "blue-ribbon beauty that's stealing the thunder from the high priced cars." The Bel Air was offered in a convertible, a smooth hardtop sport coupe, four-door station wagon, and a four-door sedan, which was the sales leader with over 340,000 units built. The new Bel Air Beauville four-door station came out with triple the amount of sales compared to its prior 1954 wagon model.
Continuing to Greatness

The later model year Bel Airs received a face-lift with a controversial full-width grille to better cater to customers who didn't favor the Ferrari-inspired '55 grille. They also received fluid front and rear wheel openings, slightly lengthened bodies, and distinct two-tone color schemes. Bel Airs equipped with a V8 were given prominent chrome "V" on the hood and trunk. The Turbo-Fire V8 grew up to 283 cubic inches, dubbed the "Super Turbo-Fire V8" that produced an impressive 283 horsepower with help from continuous mechanical fuel injection that was shared with the Corvette.
The '55 Bel Air transformed into one of the most recognizable American cars of all time, respectively being worthy as the poster child of the nifty fifties.