Secret Audio - Modern Stereo Systems That Don't Compromise Classic Style
You've worked hard for your classic vehicle, whether you spent hours in the garage restoring long-neglected parts or you spent your savings on an all-original. The only downside of taking a ride in your classic is the sound – that static-filled radio just doesn't cut it. Worse, your classic may not even have a radio at all. You'd love to rock some of your favorite songs while enjoying your vehicle, but modern stereos just don't fit into classic cars without modification.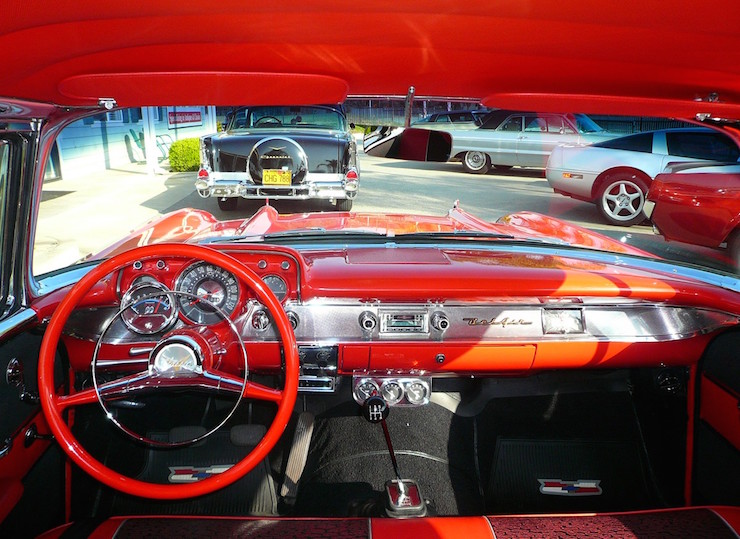 The last thing you want to do is start cutting pieces of sheet metal out to make room for a modern stereo. But if you want high-quality sound, you know you're going to have to part with the classic stock radio or cut a hole in the dash.
Or maybe you don't.
The folks at Custom Auto Sound understand your desire to keep your car a classic while still enjoying the amenities a modern sound system provides, which is why they developed the secret audio stereo system.
How Do They Do It?
Custom Auto Sound has made it easy to enjoy the looks of your classic and the sounds of today by creating a hidden (or secret) audio system. You can mount the main unit anywhere in your vehicle, such as behind the dash, underneath a seat or even in the trunk. A 10ft cable reaches from the unit to an LCD display that you can mount anywhere. The LCD display can be mounted on a bracket anywhere on your dash or it can be flush mounted. It's small and only 1" deep so your options are endless. You even get a remote control that controls the Secret Audio system from up to 40ft away.
Here's what comes with the Secret Audio System:
AM/FM 200 watt 4x50 tuner – with Zero Memory Current Draw so it won't drain your car battery when the tuner isn't in use
LCD display with contrast control – shows artist and song titles for USB, iPod and Satellite Radio.
Remote control – Works up to 40ft away through radio frequency, no line of sight needed.
USB MP3/WMA Flash drive player
iPod Direct Control Interface (7ft docking cable included)
Auxiliary audio input for connecting
Pre-Outs – 4 channel 3 volt RCA pre-outs and a subwoofer pre-out for amplifiers.
A swivel bracket – for mounting the LCD display
A flush mount bezel – if you want to flush-mount the LCD display on your dash
CD input for a 6-disc changer (http://hhclassic.com/i-13698697-6-disc-cd-changer.html) or CD1 single disc player
What This Means for You
Modern convenience in your classic vehicle. The Secret Audio unit gives you what you want when it comes to modern sound and convenience. You won't find many classic vehicles with the ability to play an iPod, connect with a USB cable or play CDs with a 6-CD changer.
And the best part is, you won't have to alter your factory radio or dash if you don't want to. Once you install the unit, mount the LCD display and connect your speakers, you'll forget it's even there until someone asks how you have such great sound in an older vehicle.
Check out the Secret Audio audio system and get high quality sound with a professional-looking installation in your classic vehicle.