How to Install New Tri Five Seat Upholstery
Nothing can freshen up your Tri-Five's interior quite the way new seat upholstery can! In a little over two hours, using basic hand tools, you can transform your Tri-Five's interior with new upholstery. If you're tackling the job soon, or thinking about it, this guide will help you get the job done.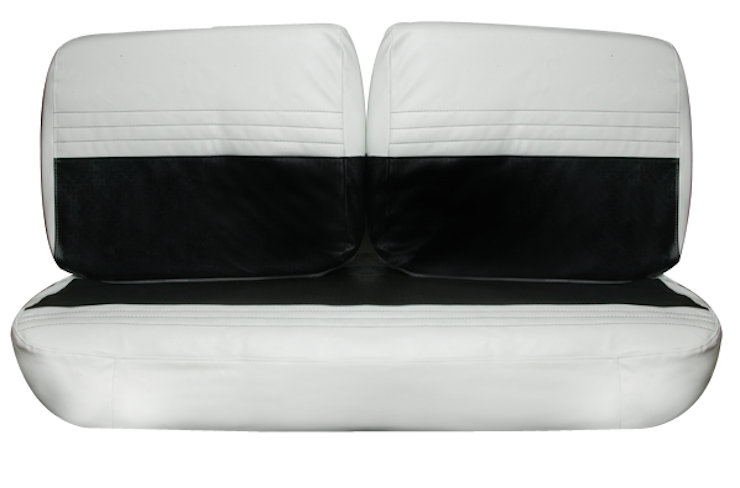 Supplies Needed:
Standard Wrenches
Hog Ring Pliers
Flathead Screwdriver
Needle-Nose Pliers (Helpful, Not Required)
Hog Rings
Seat Foam Padding (Optional)
Note: A good trick many upholstery installers use is to lay vinyl covers out in the sun to help loosen the material and smooth out creases or folds in the material from packing.
Getting Started
Doing an upholstery overhaul is going to require the removal of your seats from your Tri-Five. Start with the fronts, unbolt the seats from the floorpan. Do this using open ended wrenches as it can be a pain to access the bolts, especially the rears. After the bolts are loose, you lift the seat up, and guide it out of the car. Careful around the door opening as seat brackets can take a nice chunk out of paint.
You can now see that the underside of the seat cover is attached to the bottom seat springs, and the hog rings hold the upholstery to the frame of the seat.
The upholstery is stretched over foam padding and is tucked to the underside of the seat. Hog rings loop through the edges of the materials and into the holes in the seat frames. When you first get the hog rings, they are conformed in somewhat of a U shape with notches so you can fold them over and close with pliers. To remove covers, pry apart the hog rings with a screwdriver. Loosen all of the rings and then remove the skins.
It may be a good idea to replace the seat foams while you're in there, unless they're in excellent condition, but that's not likely if you're ready to replace the covers. Seat foams can get pretty rough over time, and replacing them now will restore the factory comfort and form of the seat.
After taking them apart, you're going to have a good idea how to put the covers back on. Just place them over the foam and springs, and secure them with hog rings using the special pliers. Getting them into place may take some stretching and pulling, but you'll get there. The material is pretty forgiving so don't worry about ripping it, unless you get too aggressive. It will take some time and patience to get everything in place, and plenty of hog rings. The end result will be well worth your efforts, so get ready to look at your Tri-Five in a whole new light.