Classic Chevy Wiring Options
A lot has happened since the original wiring in your classic Chevy was first installed. While this original wiring can last for decades (a testament to GM quality from the 50s, 60s, and 70s), it's definitely not going to last forever. As it ages, it's going to become brittle, corroded, less conductive, etc., and at some point it's going to break. When it does, it's rarely convenient.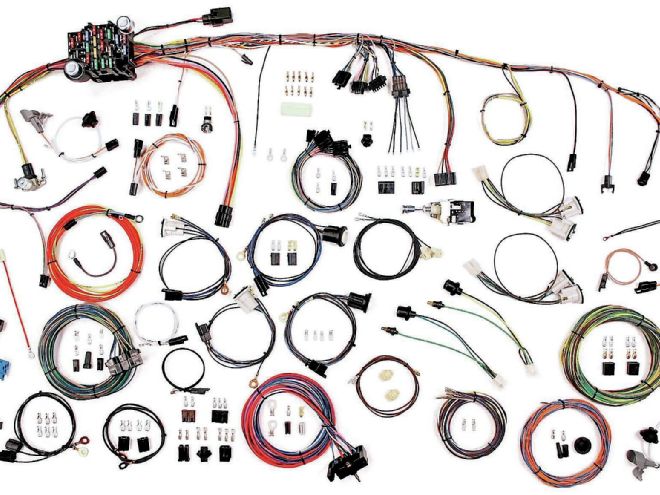 Therefore, the smart thing to do is to replace the wiring at the initial signs of a problem. For example, you can check for:
Dimming or flickering in lighting
Wiring that's obviously damaged...missing insulation, corrosion that seems to be fusing separate circuits together, etc.
Electrical shorts when it rains (sometimes this is sub-optimal design, sometimes this is a wiring problem)
Excessive voltage drop across a specific circuit
Finally, it's never a bad idea to replace wiring when you're "in the area," especially if "the area" is going to be hard to get to later. If, for example, you've removed the engine and the entire front clip of the vehicle, running new wires just makes sense.
The Ultimate Wiring Solution - A Total Update Kit
When people talk about classic wiring harnesses, they often mean the main "master" harness, like these kits for the Chevelle, Impala, Nova, Tri-Five, or classic Chevy and GMC trucks. While these kits can require a considerable investment in terms of time and money, the advantage to going this route is that they contain every wire you need for your specific kit. Everything is connected to a fuse block, labeled and/or color-coded, etc. Replacing an entire wiring system takes a lot of work, but the end result is that you won't have to think about wiring for another 40 or 50 years.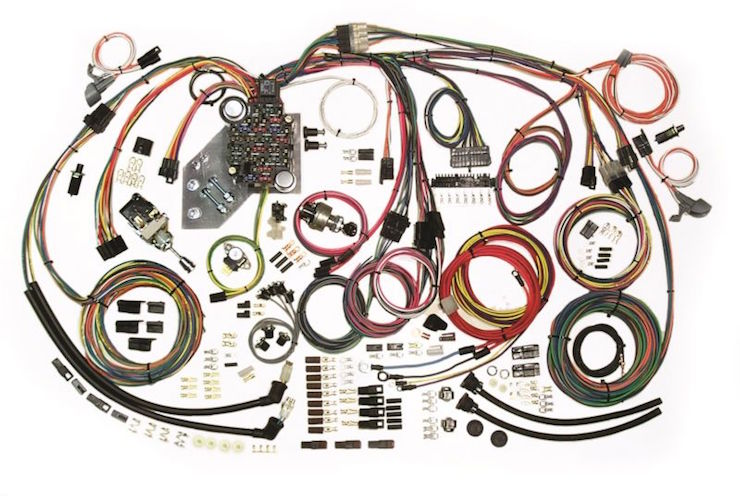 When you replace the main wiring harness, look for the following options:
Labeling and/or color-coding, which will save you a LOT of work
Included horn relay, flasher, and a fused main power lead
GM-style connectors at all mounting points. While this is the standard for most classic harnesses, some cheap harnesses do not use GM style connectors.
A configurable dash harness, which will allow you to install a cool after-market gauge cluster if you so choose
Year and model specific fit
That last item is important - a lot of the companies selling wiring harnesses for classic Chevys are selling universal harnesses with a specific number of circuits, rather than a vehicle-specific harness.
Circuit-Specific Harnesses
If you don't want to replace the entire wiring system - or don't need to - harnesses are available for specific parts. A dome light harness, for example - like these for classic GM trucks - are pretty straightforward. The wiring gauge is specific to the typical current draw, there are a couple of wires, and some connectors. You just have to remove the existing harness and run the new wiring.
More complex systems are available too. Dash harnesses - like these Tri-Five units - can include headlight wiring as well as wiring for all instrumentation. While more complicated to install than a new dome light harness, they can be a big help when you're trying to upgrade to a new gauge cluster. They're also a good idea if you're having issues with instrumentation.
At H&H, we carry harnesses for both the entire vehicle as well as sub-systems like the backup lights, headlights, specific instrumentation (like the tachometer), interior accessories like the clock or console, and even harnesses just for convertible tops.
Don't Let Wiring Intimidate You
When we talk to our customers about wiring, a good percentage are apprehensive about tackling a dash harness, let alone a total wiring update. Part of this apprehension is that wiring can be hard to follow, but another part is that we've all heard horror stories. The good news is that we've created some videos to help you tackle your wiring project:
This video talks about the importance of the turn signal switch, which is surprisingly critical to the overall wiring system on many GM vehicles from the 50's, 60's, and 70's:
This video reviews the different types of wiring options, and why we only carry American Autowire products: