What You Need to Know About Electric Windshield Wiper Conversions
Here's a fun fact: Most of the cars made before the 1960s had windshield wipers that were powered either by vacuum motors or cable and spool systems.
Old-school windshield wipers wouldn't pass today's vehicle inspections, so that's one reason to convert your old windshield wipers to the modern electric kind. Also, the modern wiper system is much sturdier and more reliable.
The Conversion Process
To upgrade your original wiper system to the modern electric kind, you can choose between two different approaches:
Do all the dirty work yourself, which involves doing research, buying individual parts, making measurements, modifying the mounting, building a drive hub, and installing everything
Buy a model-specific wiper conversion kit that already has all the parts and instructions you need for a quick and easy install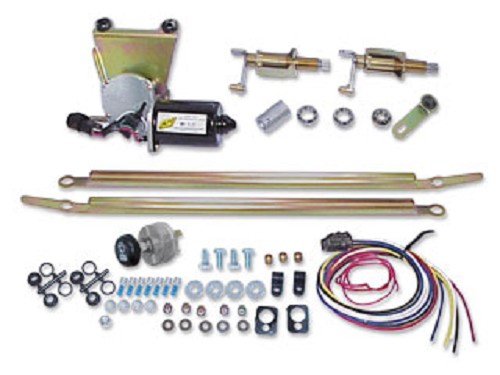 A RainGear wiper conversion kit for 1955-1959 Chevy or GMC trucks.
Regardless of which approach you decide to take, you still have to follow a certain process to get your new electric motor to work properly with your classic Chevy. Here's a general overview of how it works.
After you dismantle the original wiper system, you have to modify the new electric motor to ensure compatibility with the car. The modifications you need to make depends on the type of classic Chevy you're working on. Sometimes you just have to build a drive hub and install an adapter plate. Other times, you have to also replace the wiring or add new bolts and washers.
Doing it manually requires a lot of trial and error, because you'll likely have to figure out which parts you need to buy or make as you go along. If you're lucky, you'll find a tutorial for your exact year, make, and model online.
We know we're a bit biased here, but it's so much easier to buy a conversion kit that's specifically tailored for your car. A good kit has all the parts you need, along with a great set of instructions. That way, you won't have to waste any time attempting to install the new wiper system via trial and error.
Parts You'll Need
If you decide to upgrade to an electric wiper system with various parts, here's a basic list of the parts you'll need:
A 12-volt electric windshield wiper that matches the arc swing of the original vacuum motor
A drive hub (handmade or bought)
An adapter plate (handmade or bought)
The correct wires, nuts, and bolts
Most conversion kits comes with all the parts you need for your exact year, make, and model, but you'll need to use your own tools.
Occasionally, depending on your car, you might need to purchase or build additional parts.
A Couple of Tips
We'll close this post with a couple of tips:
Some wiper motors offer an automatic "return to resting position" feature. Classic cars, however, are built to let you easily stop the wipers in the correct position so you might not need that feature after all. It'd be nice to have, though.
The ideal wiper motor for classic cars pivots in the center and has a swing arc of 135-140 degrees.
If you've converted your wiper motor, tell us how it went on Facebook!