Check Out This Show-Worthy Lime Green 1967 El Camino!
The El Camino may have died out in 1987, but it still turns heads on the street today. It's such a unique model that owning an El Camino is actually on some people's bucket lists.
If it's not on yours, wait until you see this '67 El Camino we found on eBay the other day.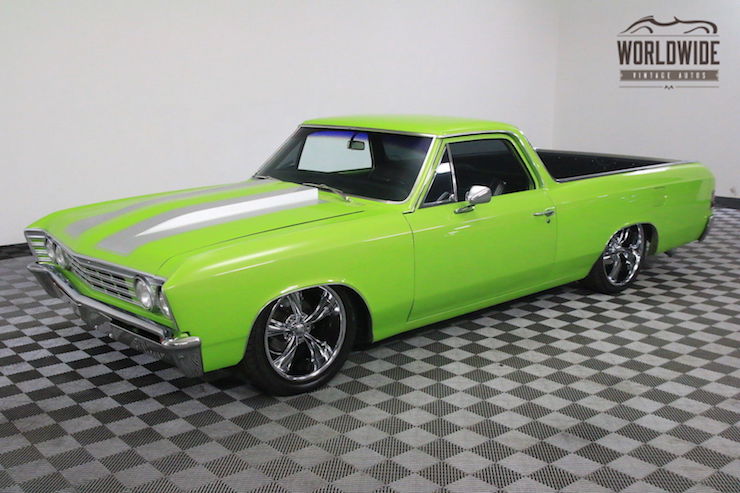 You might need to put on a pair of sunglasses before looking at this bright green machine. Photo credit: Worldwide Vintage Autos
Denver-based vintage car dealership Worldwide Vintage Autos couldn't contain their excitement about this El Camino because it's such a rare car, considering its pristine shape. They did not specify in the eBay listing whether they fixed it up or if it was already like this when they acquired it, but they said that many man hours and money were poured into this car. We believe it. It's clear that they love it, and so do we.
So let's see what this one-of-a-kind show car has to offer!
Exterior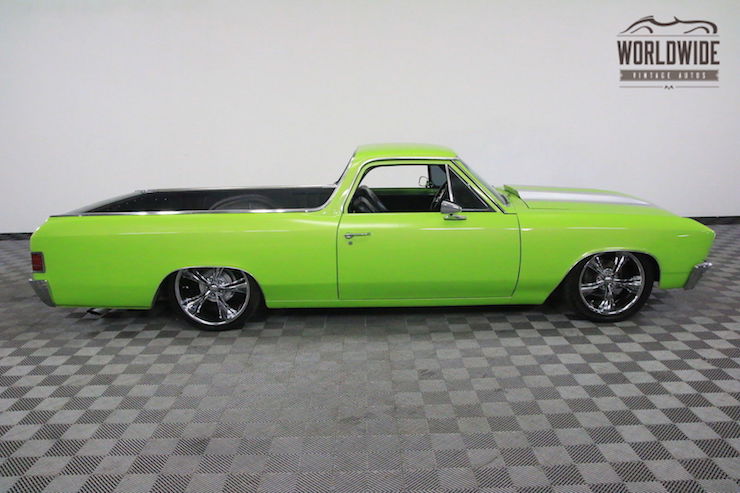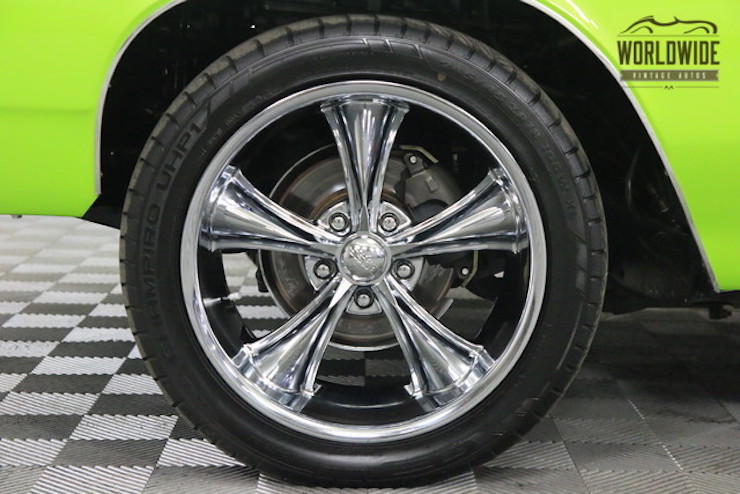 This El Camino is, in a word, jaw dropping. Given its high-dollar pearl paint job, chrome rims, four-wheel air ride suspension system, and more, we were shocked to see that it's listed at only $22K. Even a basic Ford Escape costs more than that.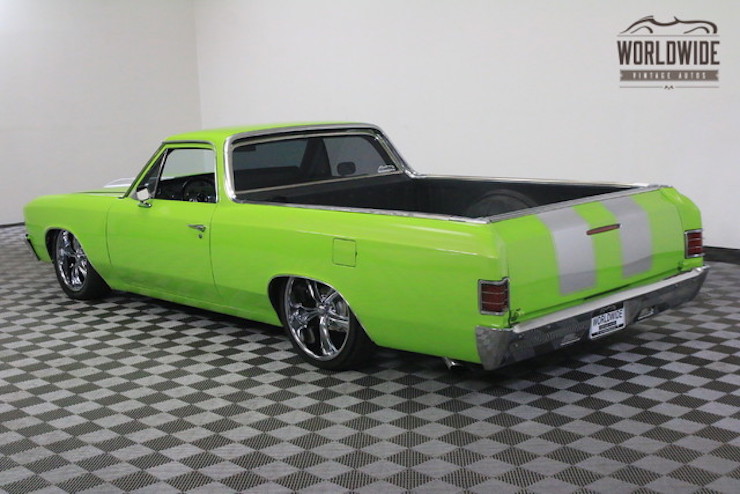 Can you spot the third brake light custom built into the tailgate? We're digging the silver racing stripes, too. They tie the car's look together.
Interior
Sliding into the driver's seat of this El Camino will take you right back to 1967. The well-restored interior sports many custom features such as the console and black bucket seats.
If you look close enough, you'll notice a few modern touches such as the stereo with a built-in subwoofer and speakers behind the seats.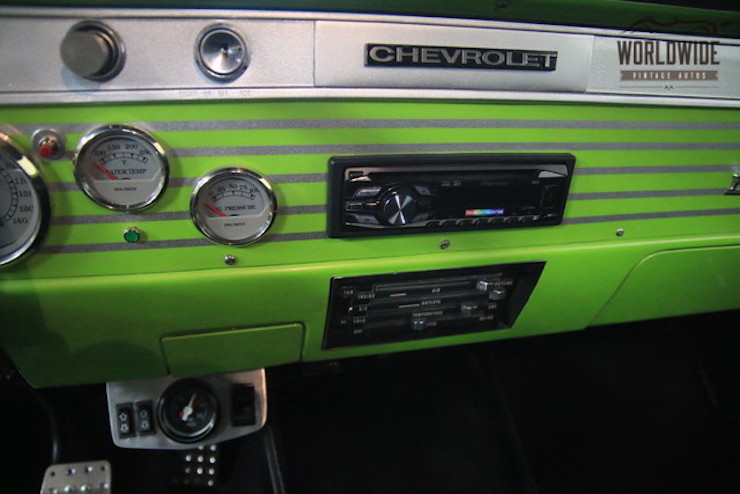 If it were up to us, we would've added a classic-looking AM/FM stereo that offered modern features (like this one). But at least the El Camino is rocking the original look of the steering wheel and the dash panel.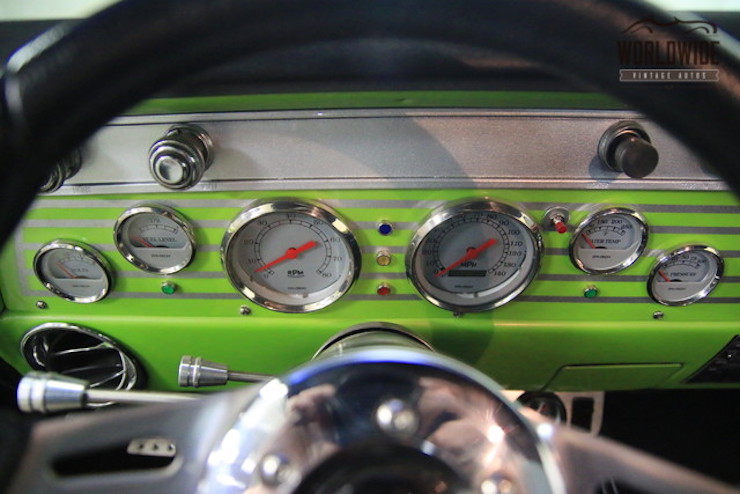 Don't you love these old-school gauges? Psst… they're new and electric.
Under the Hood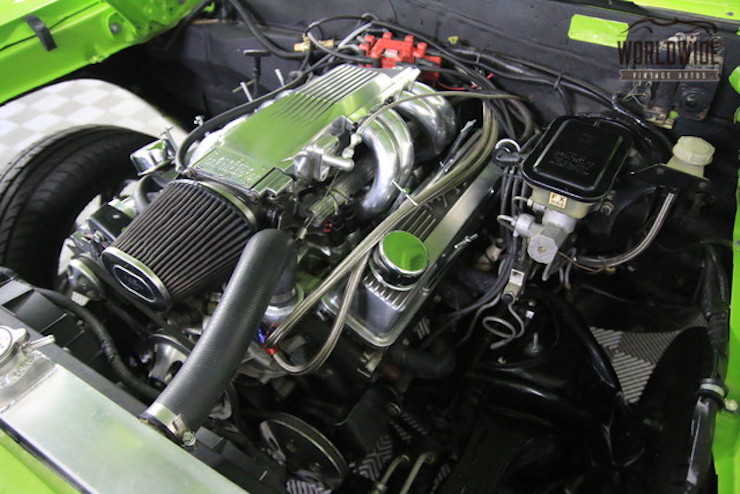 A 305 CID engine, perhaps taken from a newer El Camino model, powers this green beast. It also sports a tune-port injection straight out of a Camaro. It doesn't have its original transmission either. The '67 El Camino came off the production line with a 2-speed, 3-speed, or 4 speed manual transmission. This car has a 5-speed manual transmission, clearly taken from another car that wasn't an El Camino.
The original '67 El Camino didn't have air ride suspension, and you bet this green beast has it.
Pictures don't do this El Camino justice. It looks even more attractive on video, as shown below. We can't imagine how stunning it looks in person. Maybe a trip to Denver is in order…
<iframe width="560" height="315" src="https://www.youtube.com/embed/gCMDD_SUEyw" frameborder="0" allowfullscreen></iframe>
Would you get this unique El Camino if you had 22 grand burning a hole in your pocket? Let us know on Facebook!