You'll Never Guess What This 1970 C10 Used to Be
Once upon a time, this 1970 Chevy C10 served as a landscaper's truck in California. Despite its workhorse life, the owner kept it rust free and left it sitting out in a dry field 60 miles east of Los Angeles. Car enthusiast/owner of the Stainless Steel Brake Company (SBBC) Mike Jonas eventually bought it for $1,500. He shipped the truck out to upstate New York and spared no expense to restore it. Here's what it looks like now: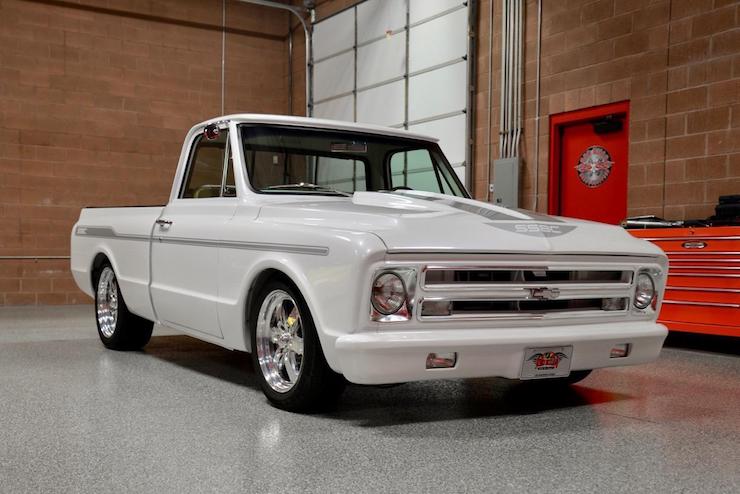 Photo credit: eBay seller stevenanastos
Holy smokes. Mike really went all out, didn't he? While he has years of experience with hot rods and other classic builds, this C10 was his first truck. He chose this C10 to be his first truck build because he's always been partial to C10s from the late 60s and the early 70s.
Mike built this truck with the intention to mirror American racecar driver Don Yenko's style and to promote SBBC's superior brake system. He loaded the truck with an assortment of premium aftermarket products and featured it at the 2015 SEMA show, where it took home the GM Design Award.
Exterior Upgrades
Mike worked with Aero Collision in Lancaster, NY to redo the body. The bed was in poor shape but the cab was in near perfect shape with just some light surface rust. Mike and his crew spent 8 hours removing the body with nothing but a set of 3/8" wrenches.
The body was then cleaned thoroughly with a blaster, and the cab, tailgate, and frame came back all ready for the new build. Mike and his crew decided to shorten the bed from 8 feet to 6 feet to achieve a stouter appearance. They coated the body in Sherwin Williams standard white paint. Accents of silver metallic paint were added, and a clear coat finished the look. Finally, they C-notched the frame to lower the body.
Once the body was all ready, Mike and his crew loaded it with a bunch of unique features:
A new front clip from Dynacorn
A custom cowl design on the hood
Markers and taillights from a 1967 Blazer
LED taillight system by Dakota Digital
Doubled back wheel tubs
And now there's the bed. In our opinion, it's the most unique part of the body. It's covered in white oak with 14 coats of varnish. We're really digging the vintage look.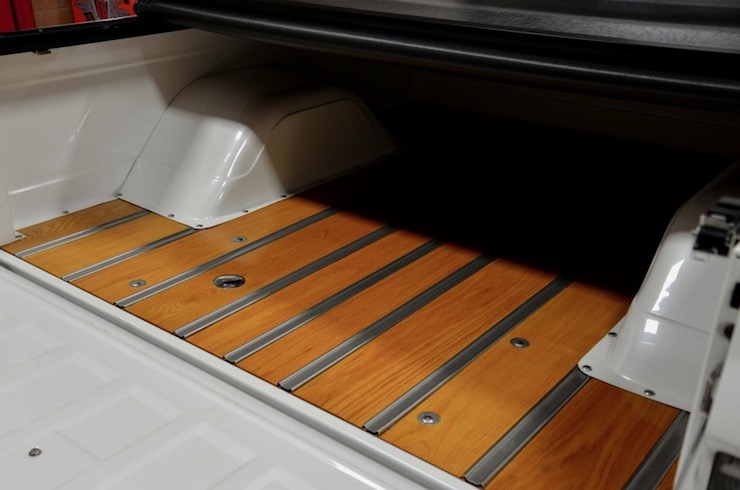 Interior Upgrades
The interior is described as "extremely comfortable and highly functional", and we can clearly see why.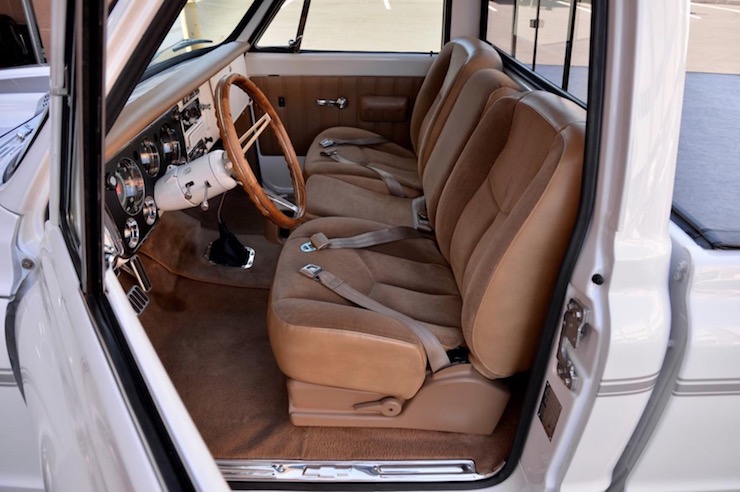 The interior is roomier than that in a stock 1970 C10 because Mike and his crew relocated the gas tank to underneath the bed and swapped the stock seat for a reupholstered truck bench from a 2004 Chevy truck. We spy some awesome aftermarket upgrades:
Classic Industries gauges, with full instrumentation
A Flaming River steering column
A Teakwood steering wheel by Classic Industries
A Lokar 10" shifter
Lokar pedals and cables
New carpeting by Auto Custom Carpet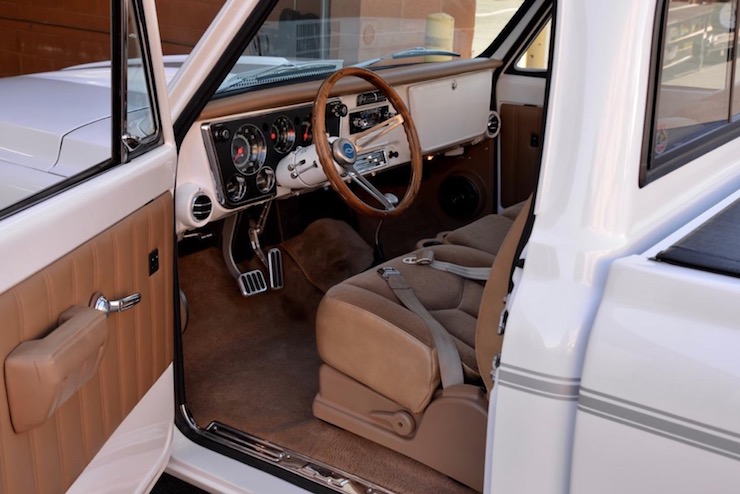 Mike and his crew also added modern wiring, a Vintage Air heat and AC system, and a custom Autosound audio system with panel-mounted speakers.
Performance Upgrades
The truck is loaded with performance upgrades. The suspension system design came from a late-model Silverado, along with 2" drop spindles and Eaton springs.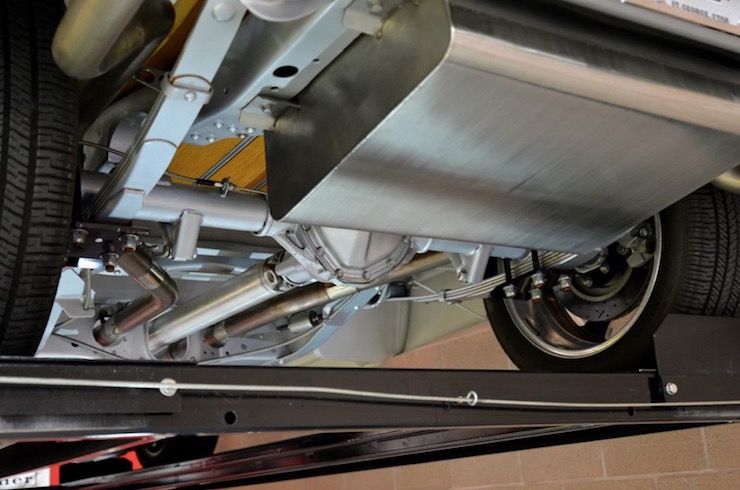 Underneath the chassis, you'll also find:
Centerline wheels with Goodyear tires
A sophisticated SBBC brake system with 14" Tri-power disc brakes, Turbo Slot rotors, and stainless steel brake lines
A stainless steel MagnaFlow system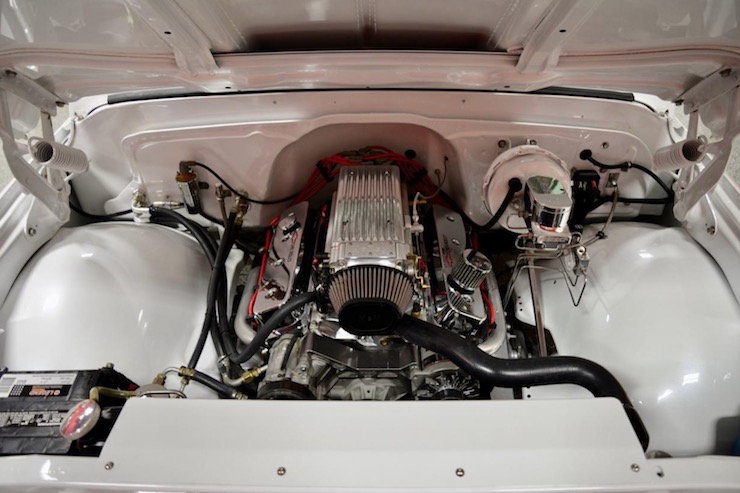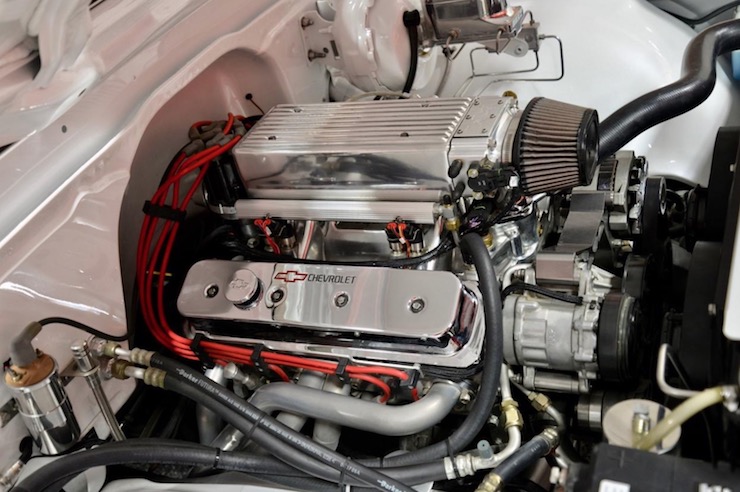 This show-stopping truck comes with an impressive engine bay. Not only does it look clean and organized, but it's loaded with a bunch of performance-boosting parts, such as:
A new 475-horsepower GM ZZ383 factory crate engine
An automatic transmission custom built by Bowler Transmissions
Holley Pro-Jection fuel injection system
MSD ignition
An aluminum Be Cool radiator with a set of Spal fans
A custom aluminum driveshaft from Denny's Driveshaft
This C10 is pretty much perfect for a classic car enthusiast. It's comfortable, it runs well, and it's nice to look at. What more could one want?