Why Switch to Disc Brakes?
With a disc brake conversion kit, you can scrap the drum brakes in your classic Chevy in favor of brand new disc brakes.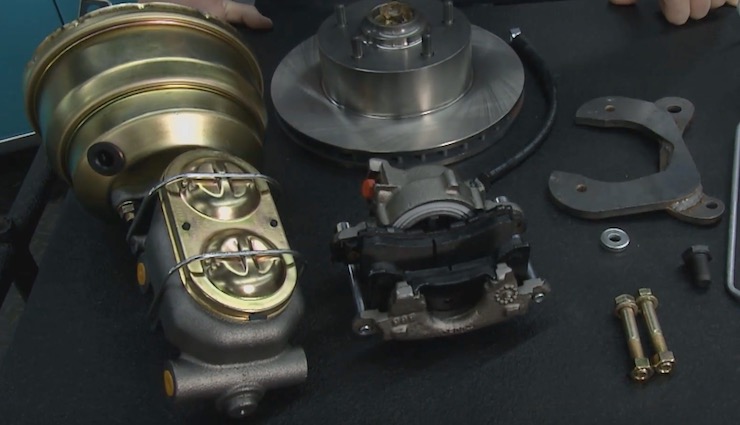 Disc brakes didn't become standard until the 1970s. Soon after they hit the market, drivers everywhere saw how much better they were than drum brakes. Compared to drum brakes, disc brakes:
Are more powerful and smoother operating.
Can withstand heat, moisture, and debris better.
Are easier to maintain.
Don't need to be adjusted on a regular basis (unlike drum brakes)
You may choose to swap drum brakes for disc brakes on only the front wheels, or you could put them on all four wheels. A lot of modern cars still have drum brakes in the rear. They're cheaper than disc brakes, and the rear brakes don't do as much work as the front brakes.
Replacing your drum brakes with disc brakes will undoubtedly improve your classic Chevy's stopping power.
What a Disc Conversion Kit Includes

A good kit contains all the parts you need to fully convert your brake system to a disc brake setup. When shopping for a disc conversion kit, look for all of the essentials:
Rotors
Calipers
Brake pads
Bearings
Seals
Hoses
Brackets
Drop spindles (if applicable)
Emergency brake cable kit (if applicable)
You want to make sure that the kit is designed for your Chevy. A conversion kit that contains generic, one-size-fits-all parts is bound to cause trouble sooner or later. When it comes to brake systems, exact fitment is incredibly important. For example, this H&H Classic Parts Disc Brake Conversion Kit (part no. 15482) is designed only for 1965-1966 Impala, Caprice, Bel-Air, and Biscayne models. This one (part no. 15481) is for 1967-1970 Impala, Caprice, Bel-Air, and Biscayne models. There are even manual disc brake conversion kits like this one (part no. 13384), which is designed for 1958-1964 Impala, Bel-Air, Del-Ray, and Biscayne models.
Upgrading Your Brakes With a Disc Brake Conversion Kit
You're upgrading your brake system simply by swapping in disc brakes. You can still customize your brake system by getting cross-drilled or slotted rotors, adding a 2" drop, or painting the calipers.
Do a search here to see all the H&H Classic disc brake conversion kits available for your Chevy.