How Much Does A Disc Brake Conversion Kit Cost?
Thinking about swapping the drum brakes in your classic Chevy for a brand new set of disc brakes? We don't blame you. There are many great reasons to upgrade to disc brakes. Before you make the leap, you may want to know how much a full kit will cost you. That's why we're here.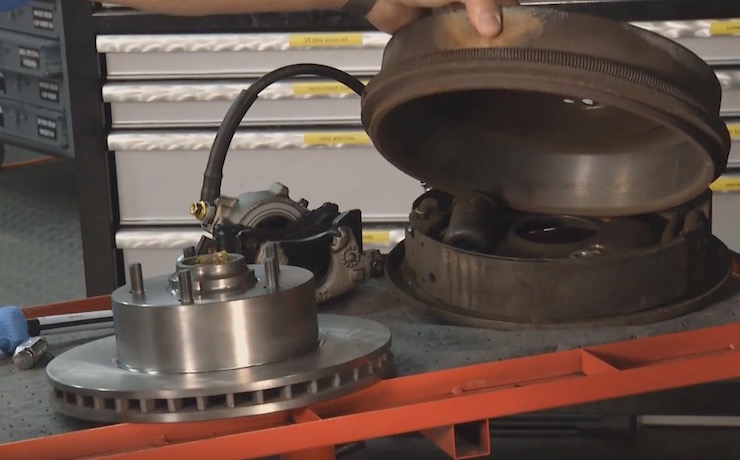 We wish we could give you one price, but the cost varies widely because of several different factors.
Factors That Determine the Cost
Some disc brake conversion kits cost more than others because of the following factors:
The number of wheels: Some disc brake conversion kits are just for two wheels as some people only want to install disc brakes on their front wheels. Others are for all four wheels. Naturally, 4-wheel kits are more expensive than 2-wheel kits.
The type of rotors you get: The rotors play a big part in your car's stopping power. There are different types of rotors, each designed for a certain purpose. For example, drilled rotors perform well in wet weather and slotted rotors are ideal for towing/hauling. Plain rotors perform exceptionally for daily drivers. Slotted or drilled rotors usually cost more than plain rotors due to the additional machining.
Any extras: While most brake conversion kits contain all the parts you need to make a full replacement at stock height. A few kits contain additional parts like drop spindles or power boosters, which adds to the cost.
The quality of the parts: It should go without saying that the higher quality the parts are, the more expensive the kit is. When it comes to converting to disc brakes, you should never skimp on quality.
Disc Brake Conversion Kit Costs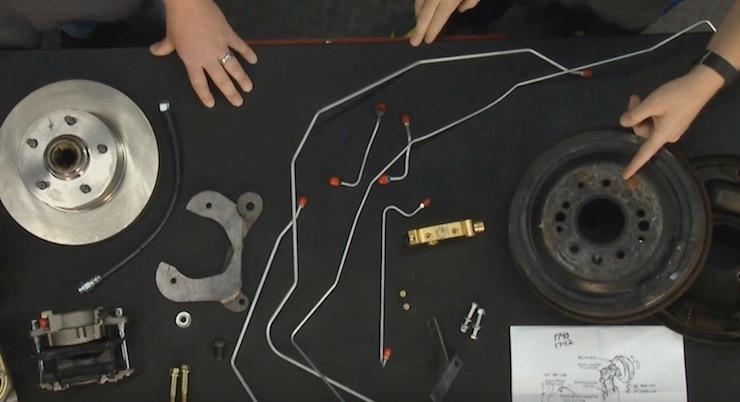 If you buy a kit made by a reputable brand, you'll be looking at costs ranging from $600 to $2,000.
The most inexpensive kits we carry are 2-wheel manual disc brake kits for several popular Chevy models made in the late 50s and early 60s. (Part numbers 12454 and 12452.) Manual disc brakes do not have a power assist feature. They will stop the car as well as power assisted brakes, but they take more pedal pressure. These kits cost about $600 and contain all the necessary parts for a full replacement. These are high quality basic kits with plain rotors.
The most expensive kit we carry is a 4-wheel conversion kit for 1968-1972 Chevelle, Malibu, and El Camino Big Block models (part no. 23828). It contains a power booster, 2" drop spindles, 13" cross drilled rotors, pre-bent brake lines, and other necessary parts.
Many kits cost around $1,600, so you can use that as a good ballpark estimate of how much you will spend on your kit. Take a look at this list of all the disc brake conversion kits we carry to see what we have to offer for your car.