16 Quick Interior Restoration Tips
When you think of major auto restoration, the body of the car is probably what comes to mind -- but the interior can be just as serious of an undertaking. Here are some quick tips on getting your interior project started and/or finished on your classic Chevy.
NOTE: These tips are not meant to replace installation instructions, they are just meant to make installation easier and more successful.
General Advice:
Moisture and the sun are the most common enemies of any interior. Therefore, be sure to use a quality cleaning and protecting agent that's specifically designed for the material in question.
Additionally, to prevent any possible damage from moisture, you can seal the interior by replacing damaged weatherstripping and floor pan plugs.
To maximize the life of your classic's interior, keep it out of direct sunlight.
Dirty or lightly stained carpets can be cleaned using any number of cleaning agents. More major carpet stains may require steam cleaning or replacement carpeting.
Seat Upholstery Advice: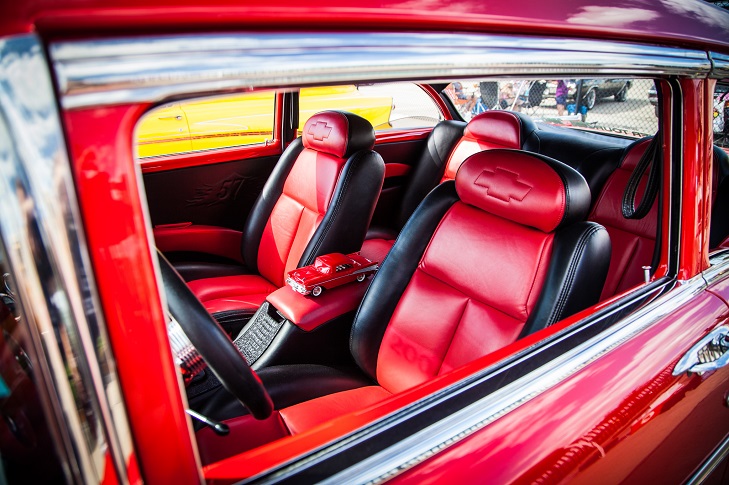 Brand new vinyl seat covers can be "loosened up" by laying in the sun and warming up. Just be sure to get them out of the sunlight after an hour or two. This will make installation easier as well as remove folds.
Installing seat covers requires the use of hog-rings and pliers, and is surprisingly easy if you're installing model-specific covers.
Replacing seat foam is recommended, but not always required.
Carpet Replacement Tips:
When you get your new carpet kit, take the pieces of out the box and lay them flat (backing side down)
Before it's time to install, lay the pieces in the sun for an hour or two to ease installation.
Pay attention to and follow the contours of your floor/trunk pans for guidance when you're adding new carpet.
Headliner Replacement:
Unfortunately, damage to original headliners is virtually unavoidable - even pressure from a simple touch with your hand can stretch or tear an original headliner.
Once a headliner starts to sag, both the liner and the backing for the liner will need to be replaced.
When replacing a headliner, be certain to scrape away all the remains of the original headliner backing with a brush or sandpaper. If you don't remove all the old material, it can cause the new headliner to sag or fall.
Headliner installations aren't supposed to go fast. Take your time...rushing could result in damage.
Door Panel Advice:
Most older cars have door panels that attach to heavy fiberboard. If you replace this fiberboard with a lighter material, your replacement door panels will last longer.
You'll need a special tool to remove most door panels without damaging the retaining clips -- this tool can be found at most common auto parts stores.
Good luck on your restoration project! As always, you can contact our tech experts here at H&H for more information.