The Best Modern Retro Style Car Radios For Your Classic Chevy
There are so many things to love about classic cars, from the bold colors to the whitewall tires to the bench seats. They don't make cars like they used to. However, there's one important feature not found in many classic cars: a good stereo system.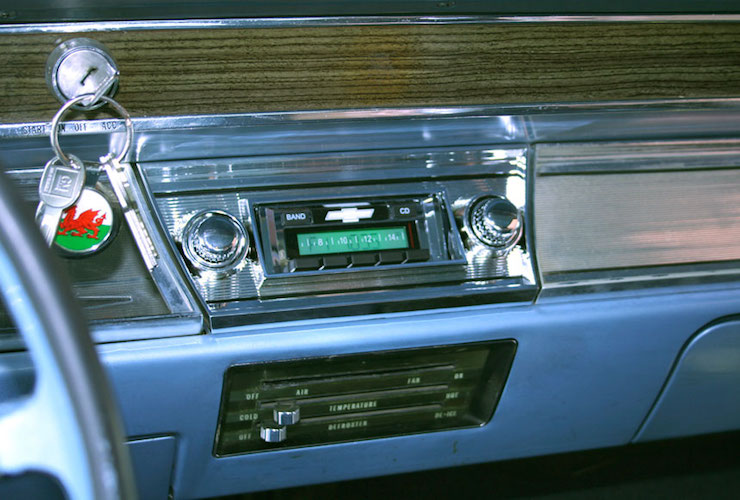 Image Credit: Matts Classic Bowties
The stock radios found in classic cars only offer local AM/FM stations, which certainly don't offer the music options we've all come to love. However, a lot of classic car owners are reluctant to swap out their stock radio for something more modern because they don't want to ruin the aesthetic of a classic's minimal style dash.
Retro Style Radios Offer the Best of Both Worlds
Aftermarket stereo manufacturers like Custom Autosound develop retro style radios that look like the stock version but come loaded with modern amenities that are compatible with smartphones, iPods, CDs, and more. Owning a retro style radio comes with many pros, the main one being that you can preserve the original style of your classic Chevy while enjoying satellite radio and/or your favorite streaming music service.
What to Look For in a Retro Style Radio
While shopping for a retro style radio, you want to look for a radio that has most or all of the following features:
A USB input
Amplifier jacks
An auxiliary audio input
An extension cord
Read more here about why these features are the ones to look for.
Recommended Retro Style Radios
At H&H Classic, we carry only the top aftermarket brands for classic Chevys. When you buy from us, you get to choose from 3 different kinds of retro style radios that offer most or all of the must-have features. Learn more about each kind below.
1. USA-630 AM/FM Radio

The USA-630 AM/FM radio, which is made by Custom Autosound, is a great choice for a classic Chevy owner looking to maintain the OE look while enjoying their favorite songs from an iPod or smartphone, CDs, and/or satellite radio. It's designed to allow you to hide all the wires and inputs in the glove box or ashtray for a cleaner look.
2. USA-230 AM/FM Radio

The USA-230 AM/FM radio, which is also made by Custom Autosound, has all the same cosmetics as the USA-630, but it comes with fewer features. It doesn't have a CD changer control or a USB input, but it does still have an auxiliary input. This radio is less expensive than the USA-630 radio and is the perfect solution for a classic Chevy owner looking to use satellite radio or portable media player (such as an iPod) as their main source of music or radio shows.
3. Secret Audio System
Custom Autosound developed the Secret Audio System for those who don't want to scrap their stock stereo but are still looking to enjoy music and shows the modern way. It's designed to allow you to beef up your stock classic Chevy radio with a bunch of add-ons, including a flash drive, tuner/amplifier, iPod dock, and more.