H&H Classic Parts -
Sheet Metal Body Panels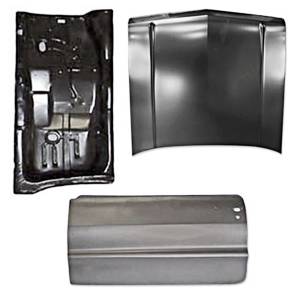 One of the best things about the classic Chevy Impala is that it's made of real metal. One of the worst parts about owning a classic Chevy Impala? It's made of real metal! A metal-bodied Impala is a 'real car', but it has its issues. Metal body panels tend to invite rust over time, especially if you live in a snowy or damp climate. The sheet metal body parts are also more prone to damage when your classic Impala is involved in any kind of accident. Even a simple bump from an inconsiderate parker can crush a body panel.
No matter how hard you try, it's nearly impossible to repair a damaged metal body panel. Even with dent removal and fillers, completely hiding damage is difficult. Not to mention, when you use fillers, they will eventually flake off. It can also alter the way the paint looks on the body. The only real way to fix damage is replacement. Using new body panels will completely restore the original body lines.
In our selection of Impala body parts, you'll find everything from complete doors here to simple patch panels here. Get your Impala body parts from H & H Classic now.
Select a Sub-Category
Sheet Metal Body Panels
Featured Products
---
---
More About
Sheet Metal Body Panels
When you are restoring your Impala, you may need to remove and replace parts of the body's sheet metal because the original is too damaged to repair. You need sheet metal that is cut to fit the car, or you will end up with pieces that are never a good fit, which can cause leaks and other damage to the car. Pieces that do not line up will take away from the attractiveness of the entire car, and if water gets inside, it will ruin the carpet and the upholstery. The replacement part you need can be something as simple as a headlight cap or as large as the entire hood. H&H Classic carries sheet metal replacement parts for your classic Impala, and they are made to fit the cars, so you do not need to worry about pieces not lining up correctly or needing to cut them to fit. Whether you are doing just the quarter panel sections, or you need the entire trunk floor assembly, you will find all the sheet metal you need to replace worn and damaged pieces here.