We Bet You'll Swoon When You See This Stunning 1955 Bel Air
Sometimes we spend our free time surfing eBay for gorgeous restored classic Chevrolets, and when we came across this eBay listing the other day, we just about fell out of our seats. Suffice to say, we're pretty jealous of the new owner of this pristine 1955 Bel Air.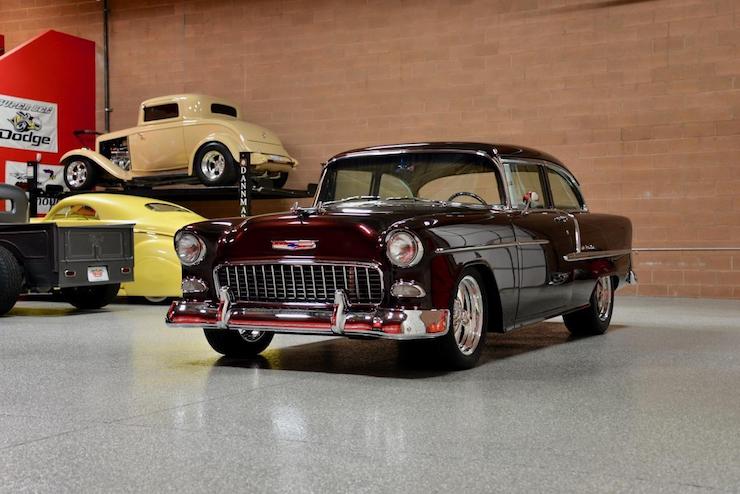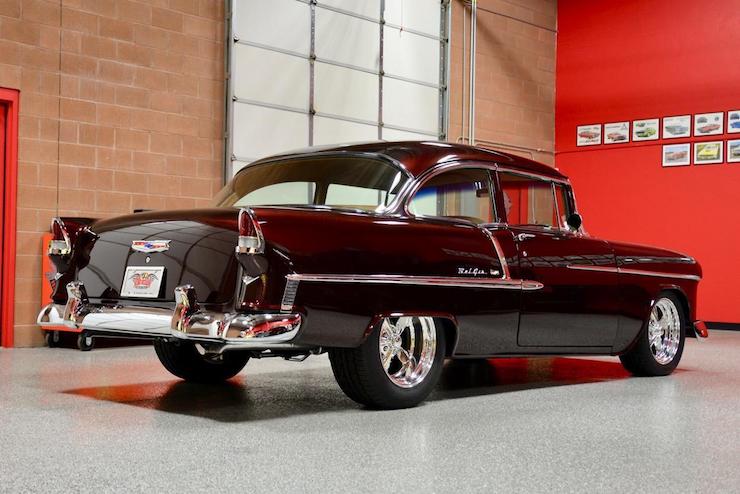 Photo credit: eBay seller stevenanastos
"This Bel Air is in a league all its own," wrote Steven Ray Anastos, owner of Red Hills Rods & Classics. "It is simply the finest, most perfect example that I have ever owned or even seen."
That's saying a lot considering Red Hills Rods & Classics has been dealing in high-end classic cars, muscle cars, and hot rods for nearly 20 years.
It took five years to complete this build, which was completed less than a year ago. "Sweat, blood, tears & countless man-hours were spent creating the absolutely perfect 1955 Chevrolet Bel Air," Anastos wrote.
Let's dive into what puts this Pro-Touring car above all the others:
The Flawless Body Work
Perhaps the most impressive thing about this Bel Air is the fact that the restorer spent one year on the body work alone.
The first thing we noticed about this masterpiece is the mirror-like Brickyard Red Metallic paint. "I have never seen another Tri-Five Chevy painted this color, and I must say that it is beyond striking," Anastos wrote.
The restorer took the time to ensure that every square inch was perfectly straight and aligned. They paid special attention to the gaps, making sure that they were precise. This car is probably more aligned than it has ever been, considering how body gaps are common among Tri-Fives.
You might notice that the body is slightly longer than normal. It's because they set the firewall back by 3 inches to fit the Big-Block motor, and they altered the rear wheel wells to accommodate the new tires.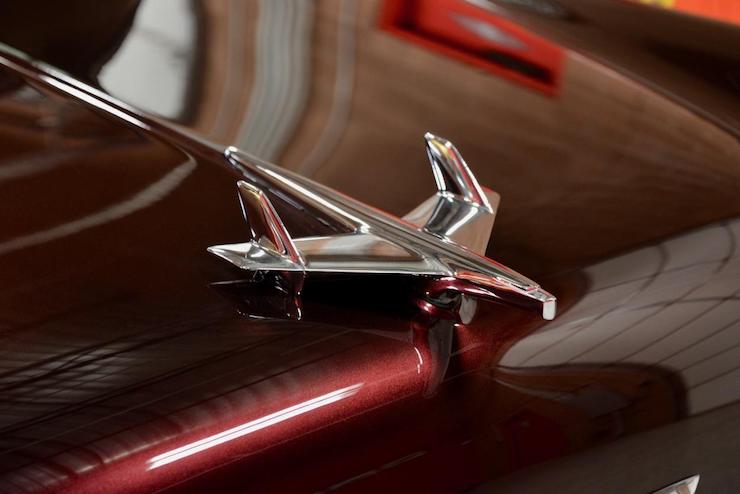 The body has original re-chromed, polished, or replaced chrome and stainless steel trim. All the glass on this car is new.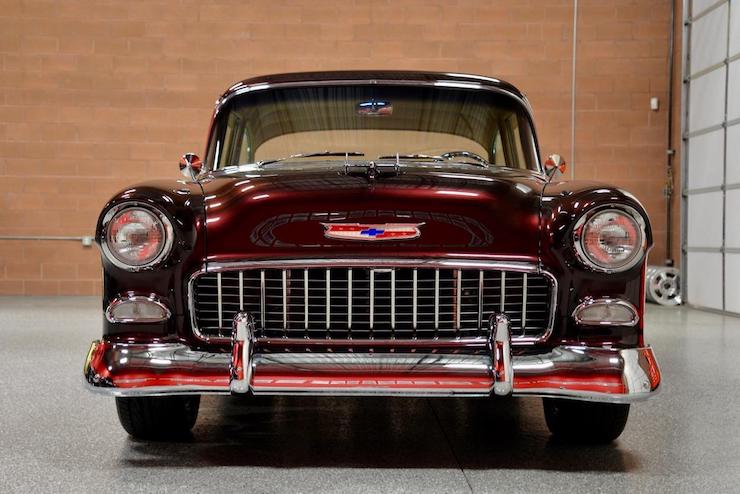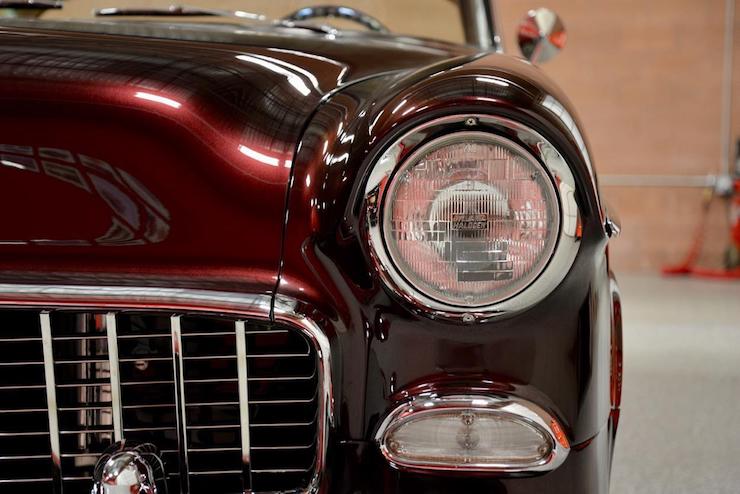 If you go around to the back of the car, you'll find what appear to be original taillights and rear bumper. The Billet Specialties Classic polished wheels and Toyo Proxes ST performance radials really tie together the appearance of the exterior.
The Beefed Up Chassis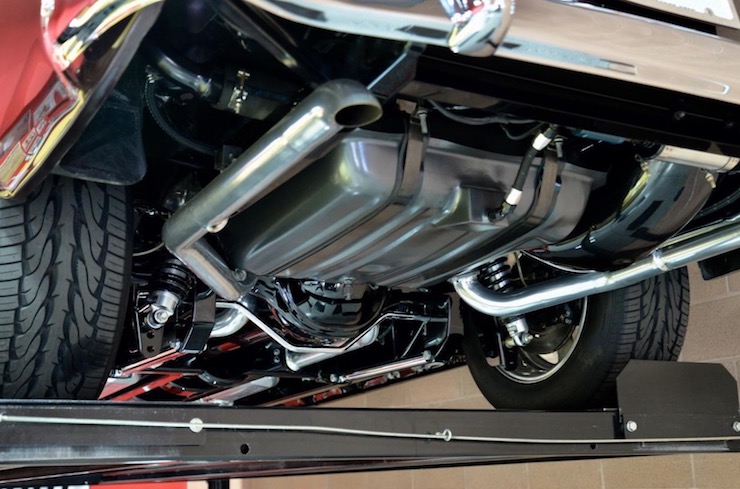 The restorer mounted the body on a new Art Morrison chassis and then installed many premium aftermarket parts, including:
Aluminum coil-over shocks by Strange Engineering
Power steering rack by AGR High Performance
Suspension system by 4 Link Bar
Custom axles by Strange Engineering
Strange Engineering S-Series 9" differential
Wilwood 4-wheel disc brakes
Stainless steel fuel cell with an electric fuel pump
Stainless steel brake lines
Custom hand-built stainless steel exhaust system
Flowmaster Hushpower Pro-Series mufflers
The impressive lineup of aftermarket products on the chassis alone is enough to tell us that this car drives like a dream.
The State-of-the-Art Interior
The restorer gave the interior as much attention as everything else on this Bel Air. We especially appreciate the effort to keep everything as original as possible. It may be loaded with aftermarket parts like Auto Meter gauges, a Hurst shifter, Lokar billet pedals, and a Vintage Air system, but it still looks like it just rolled off the assembly line in 1955.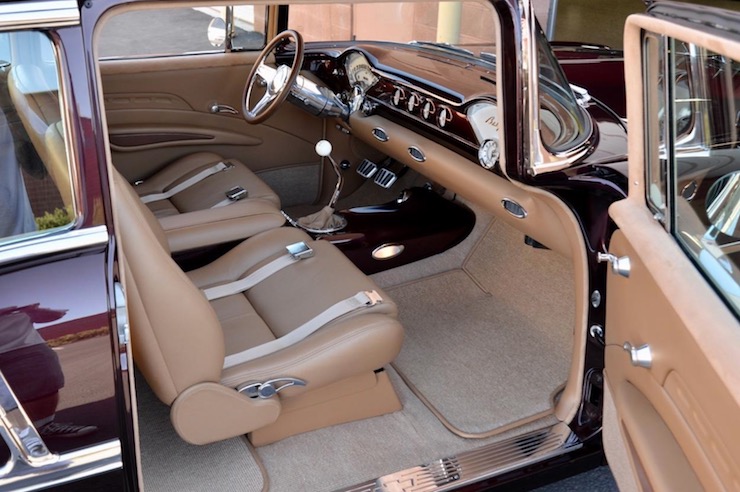 We love how the custom dash has the same Brickyard Red Metallic paint as the body. It complements the tan interior wonderfully. The restorer didn't skimp on the high quality suede, leather, and German square-weave carpeting throughout the interior. The steering wheel is wrapped with ostrich skin, and you can see billet applications all over the interior, such as the door handles, steering column, and window cranks.
Here's a secret: this Bel Air is a lot more modern than it looks. Concealed under the front console are Vintage Air controls and the Alpine receiver for the Bluetooth-enabled sound system. If you look hard enough, you'll spot power windows and speakers in the front kick panels and the rear side panels.
We envy anyone who gets to spend some time riding in this car!
The Pristine Engine Bay
Considering this car's age, you might be wondering if its engine is on its last leg. It actually isn't! The restorer dropped a 572ci Chevrolet Big-Block motor and a Tremec 5-speed manual transmission into the engine bay. The motor has only 104 miles on it and it produces up to 670 horsepower, thanks to the Hilborn electronic fuel injection (EFI) system.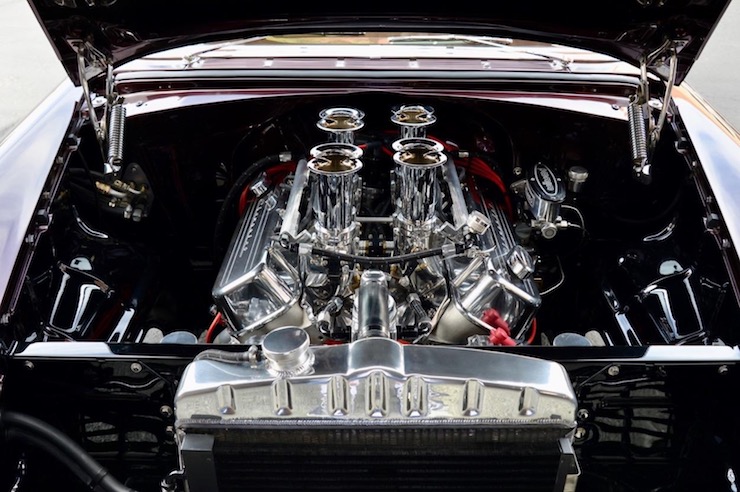 The showroom-ready engine bay is decked out with many more performance parts, including:
McLeod 12" Street Performance clutch
Old-school style aluminum valve covers
March Performance billet serpentine system
Billet AC compressor
Billet power steering unit
Art Morrison custom big-block stainless steel headers
Custom aluminum radiator with a billet overflow reservoir
Billet fan shroud
Billet power steering reservoir
Chrome hood springs
Chrome bolts & hardware throughout the engine bay
With the brand new engine, pristine engine bay, and loads of aftermarket parts, this classic beaut is as good as brand new. If only we had 195 grand lying around…
All in all, this 1955 Bel Air is the holy grail of Tri Fives. Any classic car collector would be extremely lucky to have this work of art in their collection. On a completely unrelated note, does anyone have $195K we could borrow?