H&H Classic Parts -
Console Parts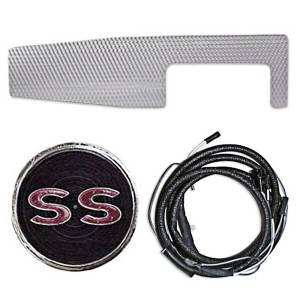 The Chevy Impala is a classic among collectors and enthusiasts. This car was often the most expensive car in the GM lineup, and it was equipped with all the latest luxury features. It holds the prestigious honor of being one of the best-selling vehicle in the United States in all time. This passenger car is very popular on the show circuit, and when you restore your Impala, restore the interior to showroom condition. H&H Classic carries a large selection of Impala parts.
The console can become worn out over time, or even cracked and broken if the car has been in storage. Console parts include bezels, lens and other trim parts. Refresh the often viewed part between the bucket seats. We can help you replace these, plus others like emblems and seat belt parts.
H&H Classic specializes in classic Chevy parts for your Impala. The Smith family opened these doors in the late 1980s. We strive to get you the best parts for the best prices with the fastest shipping. In addition to a large selection and low prices. H&H Classic Parts always offers free technical assistance from our experienced parts staff should you have any questions about parts for your Impala.
Select a Sub-Category
---