Classic Chevy Truck Parts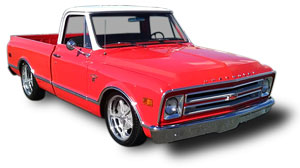 The classic Chevy Truck restoration and modification hobby is becoming more and more popular every year. Old school Chevrolet Truck enthusiasts represent a unique and distinctly cool sub-culture of the auto enthusiast culture.
Whether your project truck needs interior trim, suspension upgrades, or restoration parts, H&H has the best selection of American-made parts you need to restore or upgrade your classic Chevy truck. Browse our part categories to the left and find parts for every facet of your truck - all available at an excellent price.