H&H Classic Parts -
Suspension Parts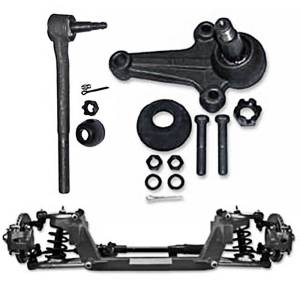 The classic Chevy and GMC trucks are not only staples at job sites or on farms, but also at car shows and in parades. When working on your truck restoration project, make sure you go over all of the suspension parts and bring it back to the factory standards and smooth ride. At H&H Classic, we carry restoration parts for your classic Chevy or GMC truck.
Suspension parts make your drive less bumpy and the truck's handling pleasant, and GM designed trucks that rode more like a passenger car than a pickup. We have a large selection of replacement parts for your truck's suspension. From steering gears to trailing arms, we can help you get all of your parts back in working order.
At H&H Classic, we offer free technical assistance from our experienced staff. We are owned and operated by the Smith family and are dedicated to offering you the best parts at the best price with the fastest shipping. Browse our large selection and low prices. When you shop here for classic parts, you'll get fast shipping and easy returns. Get your parts and get your project car done.
Select a Sub-Category
Suspension Parts
Featured Products
---